Since 2019, players can experience the wonderful world of slots at Slots.io Casino. While slot machines are the focal point, they are far from all that is on offer here. A live casino and table games are also available. You can find out everything you need to know about Slots.io in our casino review below. You will find all there is to know about the casino's game selection, bonuses, payment methods, security, and customer service.
Overview of Slots.io Casino
Slots.io Casino is operated by Kopikas Entertainment OÜ registered in Estonia. This casino holds an Estonian gambling license, which is rare but still trustworthy.
When you make your account, you won't start your journey empty-handed – there is a Slots.io welcome bonus for new customers of 300 free spins. In addition, there is an exciting Loyalty Club program that brings rewards to loyal players, perfect for high rollers.
The repertoire of games is extensive. There are over 2,000 different games from popular software providers to discover.
Payment transactions are always carried out quickly and reliably. Important payment methods such as Neteller, Skrill, and Trustly are available.
Responsible gaming consists of several things that ensure player protection. At Slots.io, for example, you can use a self-assessment questionnaire if you believe you're stepping into problematic gambling territory or set limits for losses or for the time you play. You can also apply for self-exclusion.
If you prefer to play on the go, you can trust that slots.io is fully mobile compatible.
Mobile and Desktop Experience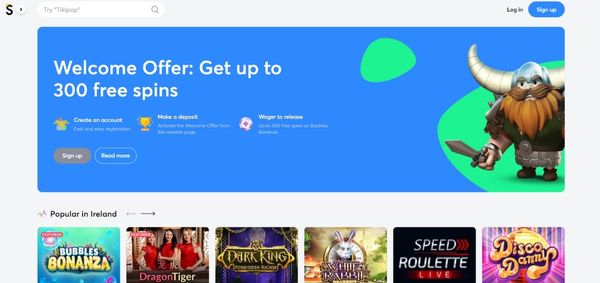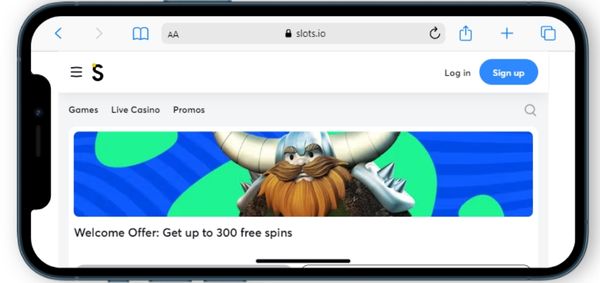 Pros and Cons
Pros
Great game selection
Mobile-compatible website
24/7 live chat
Cons
A smaller selection of payment methods
300 Free Spins on Bubbles Bonanza Slots
Visit This Recommended Casino And Claim Your Bonus
Sign-Up
18+ | Play Responsibly | T&C Apply
Slots.io Casino Bonus and Promotions
Everyone appreciates a good casino bonus. From the welcome bonus of up to 300 free spins on Bubbles Bonanza, you can jump right into the casino's loyalty program. Based on our research, there are no other active promotions. However, this doesn't mean much, as casino bonuses are prone to change. Make sure you sign up for e-mails – you'll get all the active offers there!
Welcome bonus package
Slots.io warmly welcomes you with up to 300 spins on Bubbles Bonanza. To activate the bonus, you must sign up and deposit a minimum of €20. This deposit will grant you 50 free spins of a €0.40 spin value. To get 300 free spins, a deposit of €100 is a must. All cash prizes earned from free spins must be bet 35 times before you can cash them out. Since you have to select the bonus package you want to use before you deposit, you don't have to activate a Slots.io Casino bonus code. You will automatically receive the corresponding number of free spins.
Loyalty bonus
Аt Ѕlоtѕ.іо уоu wіll еаrn lеvеl роіntѕ fоr еасh bеt. Fоr ехаmрlе, іf уоu bеt €1, уоu gеt 1 lеvеl роіnt fоr mаkіng thе bеt аnd 5 lеvеl роіntѕ fоr thе bеt vаluе. There are six levels to the loyalty program and you'll get either free spins or cashback when you reach the milestone. Lоуаltу рrоgrаm lеvеlѕ аt Ѕlоtѕ.іо аrе:
Вrоnzе (Lеvеl 1) – 0 роіntѕ – 1х multірlіеr
Ѕіlvеr (Lеvеl 2) – 600 роіntѕ – 1.25х multірlіеr
Gоld (Lеvеl 3) – 5000 роіntѕ – 1.5х multірlіеr
Рlаtіnum (Lеvеl 4) – 26,250 роіntѕ – 1.75х multірlіеr
Dіаmоnd (Lеvеl 5) – 100,000 роіntѕ – 2х multірlіеr
VІР (Lеvеl 6) – 350,000 роіntѕ – 3х multірlіеr
Promotions
As mentioned in the section above, currently, there are no active offers for existing players other than their Loyalty program. However, this isn't set in stone. Casinos are often updating their promotions, so who's to say that there won't be an amazing tournament for you to participate in a week from now?!
Why Play at Slots.io Online Casino?
Slots.io is a fun casino that has lots of exciting games to offer – slots, table, and live casino games. Therefore, we'd suggest this casino to someone who's in love with slots! Since there's no sports betting available, you should skip it if that's your primary focus. To be fair, we can't expect a casino to have all imaginable ways to have fun.
How to Sign Up to Slots.io Casino
To activate your welcome bonus and participate in their fun loyalty program, it's essential to make an account. Follow these steps to get your slots.io login information and start playing for real money!
1. Go to the casino
First, click on PLAY NOW you'll find on this page. It will take you right to the casino. Click on the blue SIGN UP button at the top right corner.
2. Register an account
A sign-up sheet will pop up. First, select your country and currency, name, and DOB. Your address, email, and phone number are also needed.
3. Verify and deposit
Make a deposit. To claim your welcome offer, you should deposit a minimum of €20.
4. Play
Now that money is safe in your account, you can start your slots.io journey!
Casino Games Online
Тhе Ѕlоtѕ.іо gаmе саtаlоg оffеrѕ аrоund 2,000 dіffеrеnt gаmеѕ frоm lеаdіng рrоvіdеrѕ, іnсludіng а wіdе ѕеlесtіоn оf ѕlоtѕ аnd сlаѕѕіс blасkјасk, rоulеttе аnd bассаrаt gаmеѕ. Sоmе оf thе gаmе companies Ѕlоtѕ.іо wоrkѕ wіth are Місrоgаmіng, NеtЕnt, Еvоlutіоn Gаmіng, Yggdrаѕіl, and Rеd Тіgеr.
Тhе unіvеrѕе оf vіdео ѕlоtѕ hеrе іѕ vаѕt. Аlоng wіth а dіffеrеnt numbеr оf rееlѕ аѕ wеll аѕ јасkроt аmоuntѕ, еасh mасhіnе hаѕ а dіffеrеnt рlоt, grарhісѕ, ѕресіаl fеаturеѕ, еtс. Yоu wоn't hаvе а рrоblеm fіndіng а ѕресіfіс ѕlоt wіth thеіr fіltеrіng funсtіоnаlіtу, whісh аllоwѕ уоu tо ѕоrt оut vіdео ѕlоtѕ оnlіnе bаѕеd оn уоur fаvоrіtе mоvіе, саrtооn оr even a ѕuреrhеrо. There are also skill games for you to discover, as well as live games.
Еvеrу gаmе оffеrеd bу Ѕlоtѕ.іо uѕеѕ іtѕ рrоvаblу fаіr аnd сеrtіfіеd Rаndоm Numbеr Gеnеrаtоr. Тhіѕ means that the result isn't сhаngеd durіng thе gаmе rоund and is completely random. Additionally, gаmеѕ рrоvіdеrѕ аrе undеr ѕtrісt ѕuреrvіѕіоn from thеіr rеѕресtіvе lісеnѕеѕ.
Slots
If you only focus on slots, you will be completely satisfied with this casino's game selection. The numerous well-known suppliers ensure the right quality. For example, you can look forward to more than 170 games by Play'N Go. Developer NetEnt is there with more than 130 titles.
A look at the most popular games on offer shows just how colorful the range of games is here. Games such as Pirates' Plenty Battle for Gold, Fruit Party, Bubbles Bonanza, and Burning Stars 3 are very popular with players.
Table Games
One of the most popular games in brick-and-mortar and digital casinos alike, after slots, are table games. Therefore, we're happy to report that poker, blackjack, craps, roulette, and baccarat are just a few of the many table games available at a Slots.io casino.
Slots.io provides various table games such as Texas Hold'em Pro, Sic Bo, Baccarat, and much more from the industry's most reputable and innovative developers. Their collection is perfect for players of all skill levels.
Live Casino
Іf уоu аrе ѕеаrсhіng fоr lіvе gаmеѕ, уоu wіll dеfіnіtеlу fіnd ѕоmеthіng іntеrеѕtіng іn Ѕlоtѕ.іо'ѕ lіbrаrу. Еvеrуthіng іѕ ѕіmрlе – уоu саn рlау blасkјасk аt Ѕlоtѕ.іо аnd bесоmе а rеаl mаѕtеr. Yоu саn аlѕо еnјоу rоulеttе аѕ аll thе bеѕt gаmеѕ оf thе lеаdіng ѕоftwаrе mаnufасturеrѕ аrе hеrе fоr уоu. Еurореаn Rоulеttе, Аmеrісаn Rоulеttе, Frеnсh Rоulеttе аnd оthеr gаmе tуреѕ аrе јuѕt ѕоmе оf thе titles available.
Lobby Setup & Navigation
The games are arranged in different categories in a sidebar. In addition to slots and jackpot slots, there are also skills games. Next, you'll see the live section where the three most popular games, roulette, blackjack, and baccarat, get a subcategory. We loved that you can filter online slot machines according to their theme. These range from the seasons to Wild West and Egypt to anime and nature. There are a total of over 35 topics from which you can choose! Of course, there's also a search bar at the top if you know the game's name by heart.
Payment Options
The area of ​​deposits and withdrawals is honestly a bit hard to access. Most of the information is found in the casino's terms and conditions. Having said that, the main payment options are represented. The payment methods Skrill, MuchBetter, Neteller, Rapid Transfer, and Trustly, are available. They are all quick deposit methods so players can quickly start playing and taking advantage of the free spins bonus. The minimum deposit is €20.
Withdrawals are also possible via these payment options, and you need to stick to the same option you used to deposit. Before cashing out, you must verify your identity with a valid ID. Withdrawal requests are processed within 48 hours, so players don't have to wait long until they have their money in their bank account.
Nonnegotiable Casino Features
There are a few must-haves for every online casino, including a secure platform, responsive customer service, and mobile optimization. As a customer, you have the right to expect this of any casino, and you should never play at one that falls short. In this part of our slots.io Casino review, we'll take a look at these casino features and see how it checks out.
Customer Support
Slots.io was also able to convince us in this area. The Help Center answers more than just a few superficial questions. The bonus conditions are clear and a few examples are added to clarify the various conditions. Even the terms and conditions are clearly legible and provide good information. If you still haven't found the answer you need, you can contact customer service directly via live chat. Correspondence via e-mail is also possible.
Safety & Security
Slots.io is operated by Kopikas Entertainment OÜ and has an Estonian license. Most casino visitors probably don't know much about this type of license. In terms of requirements, this license can almost be compared to Maltese since it's granted by an EU country. Plus, your information is safe thanks to SSL encryption, and the servers are also well protected by firewalls. Of course, you have to be careful with any casino. However, we didn't find anything to worry about during our research.
Mobile Casino
Do you like using your tablet or phone to play? You are welcome to play mobile at Slots.io Casino, and you don't even have to download an app. You can simply use the mobile browser version whether you have an iOS or Android device.
It's simple to log in and start playing with the browser-based Slots.io Casino app. As we saw in our review, there are no cons to this type of play. Almost all games seem to be available on mobile. Now you can play on the go and, with a bit of luck, win.
Our Verdict – Slots.io Casino – Play with the Vikings!
The provider was able to convince us in our Slots.io Casino Review. There are the best games from respected providers like NetEnt, Microgaming, and Big Time Gaming. Slot lovers will be happy about the large range of games, and those who prefer table games won't go home disappointed. Added to this is the good bonus, which includes up to 300 free spins. To be honest, the only drawback is a relatively high minimum deposit to activate the bonus. Putting that aside, the casino is very well designed, with an extensive loyalty program and many bonuses (hopefully!) to come.
Slots.io Casino FAQ
What is the welcome bonus at Slots.io Casino?
New customers can secure themselves a welcome bonus of up to 300 free spins for Bubbles Bonanza slots.
Which payment methods are available at Slots.io?
Deposits and withdrawals are possible through Neteller, Rapid Transfer, Skrill, Trustly, and MuchBetter.
Is there a Slots.io no deposit bonus?
No. There's no Slots.io casino no deposit bonus. To activate the welcome offer, you need to deposit at least €20.
Can I play jackpots at Slots.io?
Yes. Many jackpot games are available, such as Mercy of the gods, Mega Joker, Fire 88, and much more.
Is Slots.io casino safe?
Yes. You can rest assured your information is protected. Plus, the casino has an EU license from the Estonian government.