Many experts have highlighted 2020 as the year of social gaming and with this trend on the rise, Gambino Slots may just be the ticket for players who are seeking a new experience! Put real money gambling to one side (and all your casino expectations) because this is a free-play, socially integrated, and one-of-a-kind Slots casino.
Stick with us as we review Gambino Slots, it'll be well worth the time as this is a social 'casino', that has thrown the rule book out of the window and taken a totally different route to market penetration and wowing customers!
Overview about Gambino Slots
Gambino Slots is owned and operated by Spiral International (part of the Spiral Solutions Group an Israeli tech company), who acquired the site in 2017, but it has been operational since 2015. Since 2017, they have improved and increased the exposure of the casino brand making it a hit with players from the USA, Canada, Australia, New Zealand, and, of course, the UK.
Whilst this online Slots site started rather small (with a boutique collection of free-play games) they have been consistently adding 2 new titles per month and now have a portfolio of 100 proprietary games. Unlike other online casinos, Gambino Slots markets to a new type of player: those looking for the thrills of a casino, but without the real money bets and social integration across Amazon, Windows, iOS, Android, messenger and Facebook; and players who want the perfect free-play site to practice playing casino slots before moving up to a wagering casino.
Gambino Slots Screenshots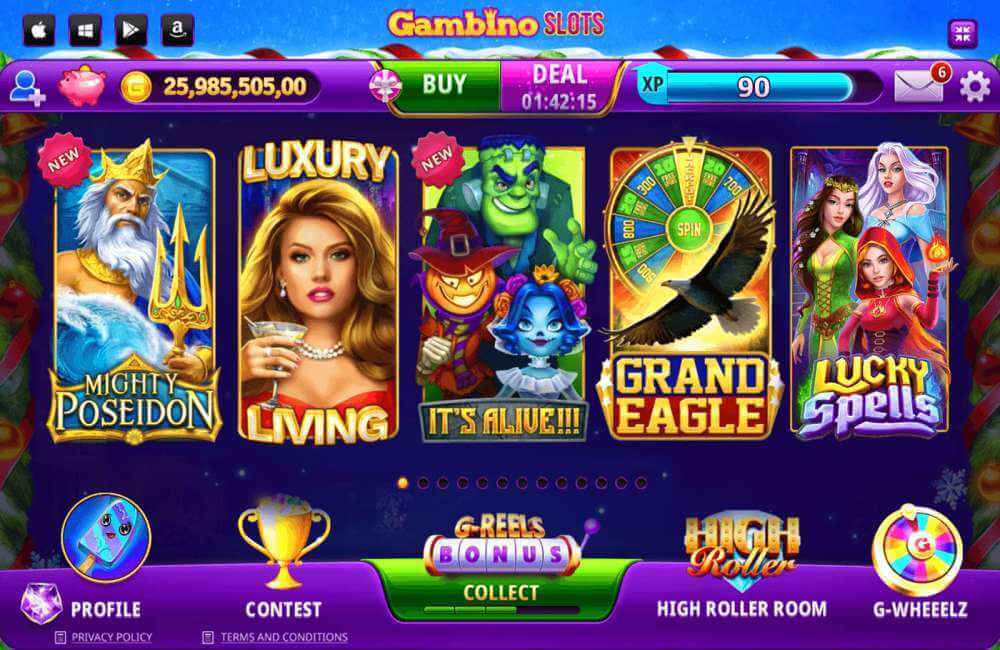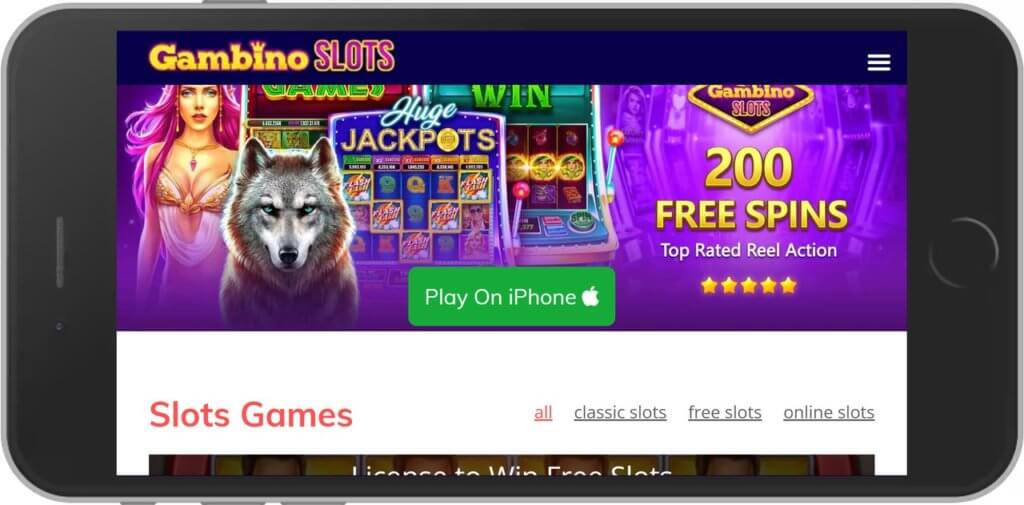 Gambino Slots Pros & Cons
Pros
VIP tiers
Compete and rise up the ranks of leader boards
Save your progress and unlock new levels and games content
Cons
No games testing or audits (free-play site)
Gambino Slots Review Bonuses and Promotions: Gain More, Play More
As we've explained above, players require G-Coins to play games and unlock levels. To get more coins players can opt to purchase them, or they can make use of the daily promotions and casino bonuses, which are plentiful.
Gambino Slots Sign Up Coins Package
New players who download to log in to Gambino Slots via social media will instantly be rewarded with over 100,000 G-Coins so they can start playing instantly. However, at the first level of this site, only one Slot game is available to unlock more games you'll need to start spinning and earning bonuses. Here are just a few of the multitude of ways to increase your coins and position at Gambino Slots.
Spin Gambino's Daily Bonus Wheel
Put your fate in the hands of fortune and log in daily to spin the Gambino Bonus Wheel. Epic prizes include thousands of G-Coins, XP Blasts, Content Boosters or an upgrade to the Mega, Epic or Grand Bonus Wheel for even bigger rewards including progressive jackpots!
Refer-A-Friend
Want to cash in on even more free G-Coins? Then why not invite a friend to the casino and earn an extra bonus?
G- Reels Bonuses
Running low on G-Coins? Then don't worry, be patient and every few hours you'll be able to collect more points via the G-Reels function in the main lobby. Just take a look at the bottom centre of the screen and you'll see a countdown and the number of points you can claim when the counter hits zero. Don't sweat it if you forget to keep an eye on this, as if you've downloaded the app to play by you'll get notifications via your phone!
Join Gambino VIP Club
Every player can be a VIP at Gambino Slots. There are 9 membership tiers beginning with Topaz, Sapphire, Emerald, and Ruby; continuing to Diamond, Trillion Diamond, Royal Diamond, and Black Diamond; and culminating in the highest tier, the Gambino Walk of Fame. With each tier of the club that you climb you'll get higher player returns and essentially bigger, better, and "more sumptuous" benefits and account functions.
A Free Play Social Site with Real Games, How Exactly Does This Work?
Let's break it down. Gambino is a free play Slots site. To play you need to earn G-coins. You can earn G-Coins in different ways. For example, new players will receive a welcome package, bonus coins are released hourly, and logging in daily also offers rewards. G-Coins are used to play (you win more when you spin Slots and even send and receive coins from friends).
As a new player, not all of the 100 Slots are available to play; only one title is unlocked at the beginning. Players must level up using Content Boosters and XP Blasts throughout the site to unlock different games and functions- you can even move through a map collecting bonuses as you go!
Impatient players can opt for in-app purchases of G-Coins, XP Blasts, and Content Boosters to play more and level up quickly, but it is not necessary, and strategic players drop in daily to collect bonuses. Contests and competitions also encourage daily logins and heat up the action, keeping players captivated. Plus, with the social integration of this app, you can celebrate wins with friends and get announcements from other players as you play!
How to Sign Up to the Gambino Slots
You don't need to sign up to the casino in the usual sense, rather, just download the app via your phone, tablet or desktop device and login via your Facebook account- then you're raring to go. Linking the app to your Facebook account means you can save your progress- easy peasy!
1. Download
Download the app via your phone, tablet or desktop
2. Facebook
Login via your Facebook account
3. Collect Your G-Coins
Get 100,000 G-Coins just for signing up!
4. Start Playing!
Explore their fun slots on your new account!
Games + Software
"Let Las Vegas come to you with over 90 slot casino games – with whatever you're in the mood for – fantasy, classic Vegas, mythological, or holiday – you'll find it at Gambino Slots! The ultimate online slots experience!"
Gambino Slots Casino is a one-of-a-kind lobby that rewards you with every spin on its collection of exclusive games. If you prefer your casino experience with missions, Gambino is just the place for you. The lobby is based on an intuitive system that opens up more casino games the further you go. It's simple. The more you play, the bigger the casino lobby becomes!
Gamification Experience
The gamification experience is what Gambino Slots casino is all about. Your mission is at the core of everything you do. Now, don't worry. This mission is nothing serious. It's pure slots entertainment all the way. All you have to do is place wagers on the games available to you to unlock more.
90 Games To Play Through
Gambino Slots Casino is home to more than 90 titles. The number will grow in the months and years to come, so the mission to unlock all the games will continue as well. You only get one slot to play at the start, so don't get fooled into thinking this is the smallest lobby in the world. In time, the lobby grows into something much bigger and better.
All Types of Slots To Enjoy
The slots collection at Gambino is full of variety, from classic reels to the latest in slot innovation. You've got five-reel and six-reel options, slots with multiple paylines, dynamic bonus features, and some excellent in-game graphics animations to keep you immersed in the experience from your first spin to the last.
What Are Gambino Slot Games All About?
Gambino Slots provide the same high-quality graphics and features that you can expect from any casino Slot. You will still stake on each spin with G-Coins and earn them as prizes. Plus, just like a real money casino slot, they have bonus rounds, free spins, re-spins, jackpots, and wild features to enjoy. What's more, Gambino Slots also come with all of the mod cons like fast spin and max bet buttons, but some of the functionality in adjusting betlines and stake per spins is reduced in comparison to a paid casino Slot. Take a look at some of the top titles you can enjoy at Gambino.
1. Buffalo
Get ready for herds of big wins in this majestic classic slot: Buffalo. With features like free spins, the special Torrid Spins and various progressive jackpots, the G-Coins will come stampeding in for even more wildlife adventures! Enjoy some free slots action within the natural beauty of the North American plains. Charge toward epic wins today!
2. Luxury Living
Take a peek at the high life in the VIP-themed slot: Luxury Living. This uptown game is loaded with rich symbols and features for epic G-Coins wins. Land a round of Diamond Respins for a chance at the Grand Jackpot! For an upper-class slots experience, this is your game. Get yourself pampered with epic wins today!
3. Grand Eagle
Watch your big wins soar to new heights in this wildlife slots adventure: Grand Eagle. A wheel feature, multipliers, and jackpots are just the beginning of your epic wins! Hit the Grand Spins and watch the slot change from 1024 ways to 2000 ways! Explore the map for even more rewards! This wild slot will keep you busy and winning so go for a spin now!
Lobby Setup & Navigation
The lobby at Gambino Slots Casino makes use of a user-friendly design that focuses on big game images and clear theme designs. You can instantly see what the slot is all about by the game image. However, clicking on the game brings up a dedicated page with screenshots and detailed explanations of the bonus features. The whole mission-based system means that your lobby is never cluttered with menus and buttons. It's just you, your mission, and lots of slots that are waiting to be played and unlocked.
Payment Options at Gambino Slots
If you do want to pay to play at this casino (which means you can unlock games quicker, enjoy more aspects of the site, and level-up) then you'll need to pay attention to the payment options, which are linked to the platform you use.
For example: with the downloaded Android app, if you opt to make a purchase, Google Play will process the payment using the same payment methods registered to your Google Play account; if using Amazon, your saved payment preference with Amazon is used; and if using the Facebook app, then they process the payment (but you will need to input your payment preferences).
As most payments are in-app purchases, using your existing secure payment method, you're safe in the knowledge that security is already taken care of and payments are quick and easy at Gambino.
Non-Negotiable Casino Features
These days there are a few things that you just cannot do without at a casino, social or otherwise. These are support, security, and mobile gameplay – the last one we have already established at Gambino Slots but let's take a look in more detail.
Customer Support
Again, as Gambino is predominantly a free-play app their customer service doesn't offer the same availability, or the speed, of a real money casino. You can get in touch with them via email contact form or check out their FAQs for basic help (support options can be found at the bottom right of the playing screen), but there are no options such as live chat.
Safety & Security
As Gambino is not a real money gambling site (rather, it offers in-app purchases) the usual rules for UK gambling do apply to this site. This means there are no games testing for RTP, no casino licensing, and no external auditing. The platform does, however, offer standard SSL encryption to protect players whilst they are using the app. Given that there is no casino licensing or game audits, we do caution players about playing with real money at this site. Remember, even if you do decide to pay and buy G-Coins; you cannot win real money with this free play platform.
Mobile Casino
Gambino delivers the thrills of Vegas Slots straight to your desktop, mobile phone, or tablet. Gambino Slots is available via Facebook desktop and downloadable mobile app so it fits in your pocket. Whichever platform you choose to play from the experience is very similar, offers the same bonuses and games. The platform, in general, can be a little glitchy. Whilst the gameplay is not compromised, the app can take some time to load and you may also find it a little slow as you move through different areas and functions.
Downloading the app takes minutes and you can find the download from Microsoft, Amazon, the iOS store, or Google Play (Facebook doesn't offer download, but live play for mobile and desktop users). You don't need to sign up, rather just link your Gambino app with your Facebook to get social and save your progress as you play!
Our Verdict – Gambino Slots Review: The Best Things in Life Are Always Free!
Gambino Slots is a really intriguing site and definitely an interesting gaming avenue to explore. It capitalizes on some key gaming trends like social gaming, integration across apps, gamification, and mission-style playing. But, it is not in the same league as a real money casino, because whilst you do have the option to pay into this site, there are no payouts. In many ways, this has freed up the developers to exclusively concentrate on fun, thrills, and great gameplay; creating a one-of-a-kind, free-play site, but it won't suit everyone.
Gambino is perfect for players who like to be challenged, to complete levels and play for free, those seeking proprietary and exclusive gaming content, or even inexperienced Slot players who want to learn more and experiment with different games. Essentially, it's the type of app that you'll want to log into daily and keep working your way through, but it's not great for sustained playing sessions as you'll soon run out of free G-Coins. If you do intend to spend cash gambling online, we recommend that you hit up one of our recommended real money casinos and deposit to earn a welcome deal.
Gambino FAQ
Can I win real money at the Gambino Slots Casino? 
No, there aren't any real cash prizes available at Gambino Slots. You always play with G-Coins, which are used as freeplay coins.
Can I receive bonuses at Gambino Slots Casino? 
Yes, you can receive bonuses in the form of G-Coins. Daily logins and hourly deals are just some of the ways you can receive your Gambino bonuses.
Does Gambino Slots offer table games? 
No, there is no table game option here. Gambino Slots is all about the slot machine action. There are many different types of slots available to play.
Can I download mobile apps to play at Gambino Slots Casino? 
Yes, you can download the apps on both Apple and Android devices, plus many more. You can even connect the app via your Facebook account.
Is there a VIP Club at Gambino Slots Casino? 
Yes, there is a VIP Club at Gambino Slots. You can climb up several status levels to enjoy bigger bonuses and better perks when playing your games.
| | | | | |
| --- | --- | --- | --- | --- |
| | 200 FREE SPINS & 100k FREE COINS | | Sign-Up | UK 18+ | Play Responsibly | T&C Apply |