It's a well-known fact that Spaniards know how to enjoy themselves to their hearts' content. However, this point doesn't extend solely to cuisine, it includes casino play as well. To make this point a little bit clearer and a lot more convincing, let's check out the Codere Casino review and see just what all the fuss is about!
Overview of Codere Casino
The Codere casino is owned and operated by the Codere Group, one of the most prominent betting operators in Spain. Codere sister casinos include Double Bubble Slot, Virgin Casino, Primer Casino, and more!
It holds a license issued by the Directorate General for Gambling Regulation (DGOJ) and operates both within Spain and Latin America. Unfortunately, this also entails that the site is entirely in Spanish and not available to most European players, including those coming from the UK.
With that said, players lucky enough to play at Codere will have a variety of games and operators to choose from both via the site and the Codere mobile app. The site is also fairly easy to navigate, although there is no word of a Codera bonus offer on the site.
Mobile and Desktop Experience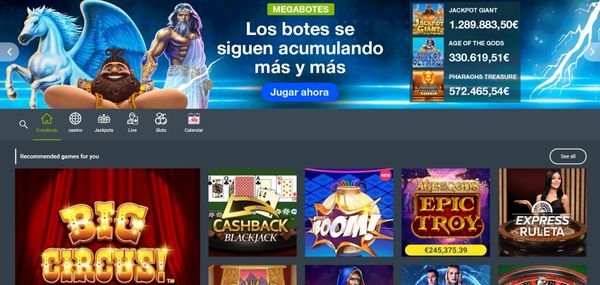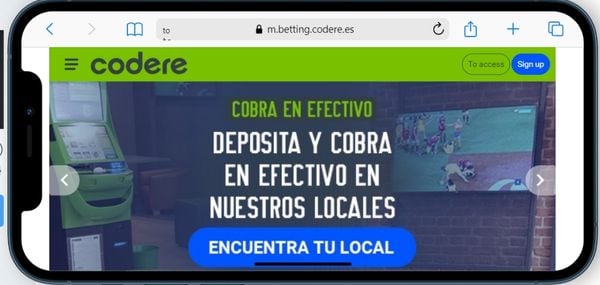 Pros and Cons
Pros
A top-notch selection of game software
A wide variety of payment methods
24/7 customer support system
Cons
Solely in Spanish
Does not support payment with Neteller
Codere Bonuses and Promotions
Every player adores a good bonus offer and the casinos are well aware of this. Unfortunately, the Codera bonus offer is nowhere to be found on the site. While players can select the Promotions section from the sidebar, this section is scarce with information.
Even though the Promotions pages neatly list the promotions, all the information is provided exclusively in Spanish, leaving much to the imagination for non-Spanish-speaking players.
Promotions
While the Codera bonus offer remains a mystery, the site does mention several active promotions. However, as all of them are exclusively in Spanish, players may need a bit of help navigating the deals at hand.
Why Should I Play at Codera Casino?
At Codera, it's not just about quality, it's about variety as well. Thus, along with getting some of the best games on the market, Codera players will also have an abundance to choose from – a sure way to never get bored and log in day in and day out!
How To Sign Up?
Codere Casino has a fairly simple sign-up process. All you'll really need to do is follow the steps below and enjoy everything the casino has to offer!
1. Go to the casino
For starters, you'll need to select the Sign-Up button located just next to the casino logo at the top of this page. This click will lead you to the Codere homepage.
2. Register an account
Once you're on the homepage, you'll notice the sing-up button in the top right corner. Click it and fill in all the necessary information.
3. Make the first deposit
After registration, you'll need to make your first deposit. At Codere, the initial deposit should be at least $100.
4. Play
Once your initial deposit has gone through, hurry to the Welcome Games category and start exploring all the games that Codere casino has to offer!
Games & Software
After you've set up your account, it's time for the fun to start. Go to the Casino page and scroll through the multitude of games and software providers that Codere has to offer. You'll notice that the casino works with some of the best software providers on the market, including NetEnte, PlayTech, and MGA.
When it comes to the games, the first thing to catch your eye will probably be the classics, like Poker, Blackjack, and Baccarat. However, these aren't the only games that you'll find at Codere. The casino also includes various slots, bingo, keno, and an abundance of live roulette variations. Finally, those wishing to get the best of both land-based and online casinos have not been forgotten. Codere houses an excellent Live Casino for players to try their luck at a variety of roulette games!
Slots
Once you go onto the Codere Slot section, you'll notice that there are too many slots to count. All appear to come from reputable providers, including NetEnte and MGA. Also, because of their number, you'll never truly be bored since there will always be a new slot to try out!
Table Games
Codera offers its players all the classic table games they've grown accustomed to, including Poker, Blackjack, and Baccarat. However, Codera is best known for one game in particular and that's Roullete. It offers a wide variety of roulette variations to be played both in and out of the live casino.
Live Casino
The Codere Live Casino is focused on one thing and one thing only – live roulette. While there are no other games to look out for in this section, the number of live roulette variations will surely keep players entertained.
Casino Lobby Setup and Navigation
The Codera Casino Lobby is simple and sleek. The games are organized in rows and columns that seem to continue on into eternity. Unfortunately, while the game selection is one to envy, it doesn't come with a filter option. In other words, players will have to either use the search bar or scroll through to find what they're looking for.
Payment Options at Codere
While a casino may have an endless variety of casino games at its disposal, the processing speed is what really puts it over the top. After all, where's the fun in betting if it takes an entire week to see the actual result?
Fortunately, it seems that whoever works at Codere shares our disdain for waiting and has worked tirelessly to make the payment process as quick as possible. Thus, Codere allows several payment methods, including credit cards, prepaid cards, bank transfers, e-wallets, and retail shop payments.
Keep in mind that the deposit minimum will vary between €10 and €15, depending on the payment method you choose. As for the maximum, it will remain €600 regardless of the method.
Lastly, players will also find solace in the fact that the payment process is fairly quick. It will either be instant or take between 1 to 3 business days to process – definitely shorter than a week!
Non-negotiable Features at Codere
No one enjoys dragging out a problem, especially one with a fairly simple solution. If a payment isn't going through or a game is giving you trouble, you'd like it fixed, right?
Well luckily, this is exactly the mantra that Codere Casino abides by when it comes to its accessibility and security with the following three segments.
Customer Support
Players who run into a problem will definitely have a place to reach out at Codere. The first option is to click on the Contact option at the bottom of the page. This leads you to the FAQ section.
Of course, if they can't find what they're looking for here, players always have the option of emailing the casino at [email protected] or using the 24/7 live chat.
Safety & Security
Security is a top-tier issue in online gambling and Codere is definitely aware of this fact. As of this review, the casino is licensed by the Directorate General for Gambling Regulation (DGOJ) both in Spain and Latin America.
In addition to the license, Codere also promotes responsible gambling choices. Players in need of advice can check out the Help option located at the bottom of the homepage.
Mobile Casino
The Codere casino site is fully accessible and compatible with your phone – that goes for both Android and iOS systems. On the other hand, Codere has also developed its own app for those who like to play on the go.
Once you scroll down to the bottom of the homepage, you'll see the Download App option among the Featured links!
Our Verdict of Codere Casino
There's a lot to be said about Codere casino and even more, left unsaid in Spanish. However, even if we're not sure of everything that's been written on the website, some things are for sure. For one, the Codere casino has an exceptional selection of slots. In addition, it's one of the most prominent betting sites in Spain.
Thus, if you ever come to be so lucky to be sitting bored on a Spanish beach, download the Codere mobile app and give the roulette a try!
FAQ
Is Codere Casino Safe?
As mentioned, Codere is an entirely secure casino. It is licensed by the Directorate General for Gambling Regulation (DGOJ) in both Spain and Latin America. Thus, players wanting to try it out have little to no reason to worry. 
Does Codere Have a Mobile App?
While not that common, Codere does in fact have its own mobile app, which is available on both iOS and Android devices. However, players don't need to download the app to enjoy the games on Codere. They can simply log in via their mobile browser, as the site is completely compatible with both phones and tablets.  
How do I verify my Codere account?
The verification process is fairly straightforward. Players need to upload a legible photograph of an official state-issued document to prove their identity. They'll also need a bill or other form of documentation to verify their address.
Can I play at Codere if I haven't verified my account?
Yes, you can. Players can enjoy all available games without confirming their identity. However, you will be required to confirm your identity before making your first withdrawal. 
Is the quality of the mobile app identical to the web version?
It is. Once players download the app, they'll be able to enjoy all their favorite games just as they would on their laptops – only this way they'll be able to play them any time and any place!