Whether you're looking to learn the ropes of Bingo or already speak the lingo, you might be looking for the right online casino that can provide an excellent bingo experience. Does Wink Bingo Casino provide the solution you seek? Though we'll go into more detail in this Wink Bingo Casino Review, the short answer is a loud and resounding: yes! The even better news is that Wink Bingo is much more than just a digital bingo hall. It also has table casino games and over 500 slots (a whopping figure considering that bingo is the focus here). In addition to all this, Wink Bingo claims to host a pretty exciting community, with friendly dealers, lots of promotions to keep the members happy, and even a friendly blog chockful of tips and advice. We don't doubt that claim, as even the colourful layout and easy navigation give us good vibes. If you want to share those vibes with us, keep reading this Wink Bingo Review to get a clearer picture of what's what.
Wink Bingo Screenshots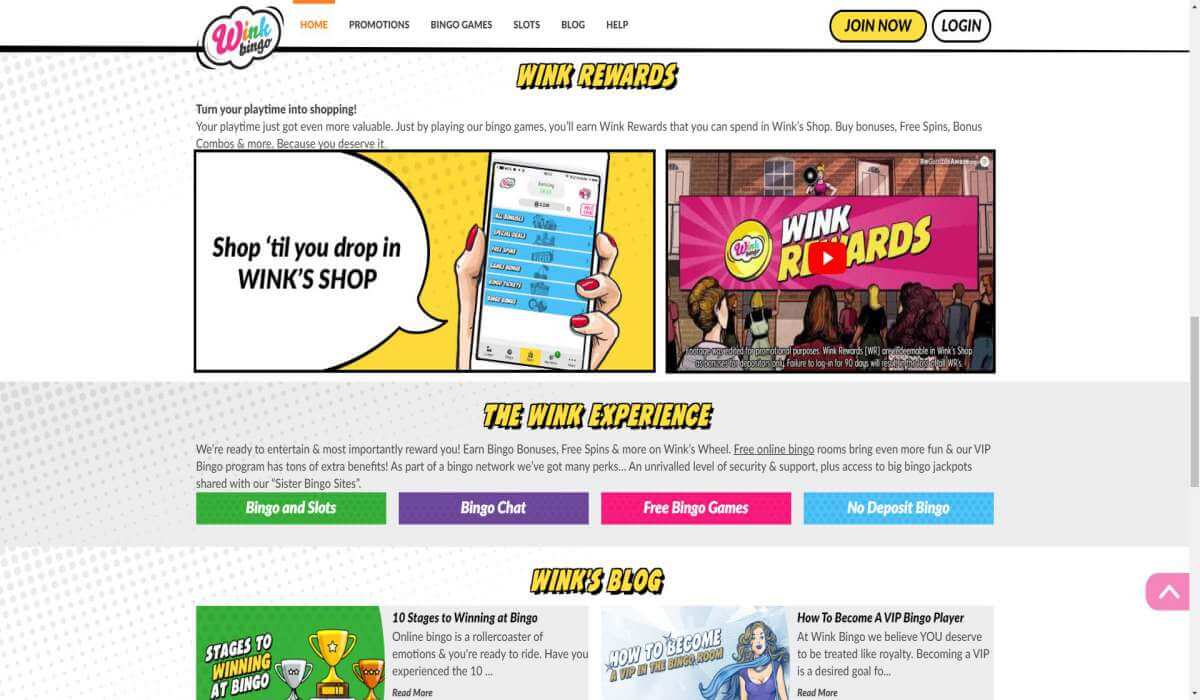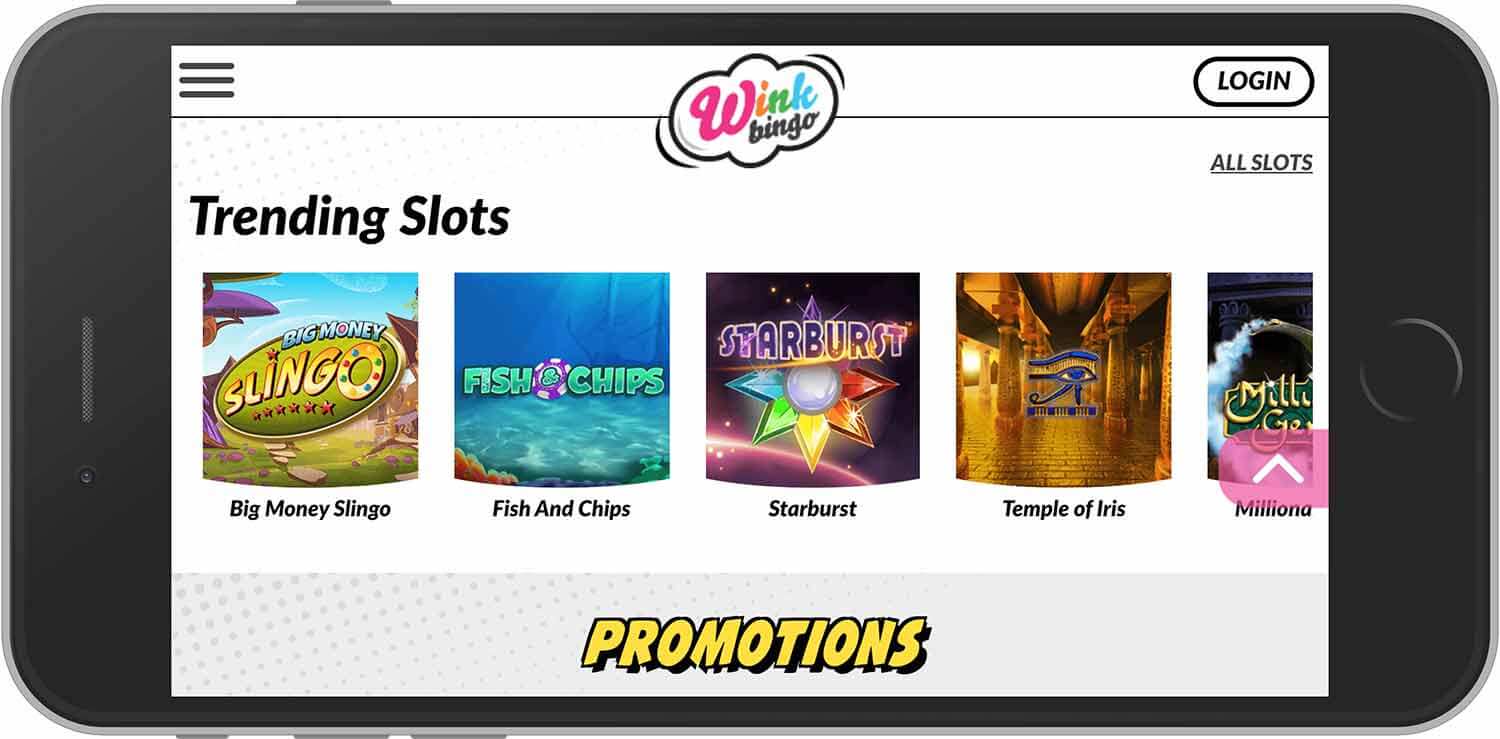 Become a Member at Wink Bingo Casino
One of the caveats at Wink Bingo is that you definitely need to make an account if you even want to try out the games. Normally this would bug us, but Wink Bingo has it explained pretty well – they have some bingo games in their roster that are intended to be free, meaning that you can't put money into them, and so for the sake of regulating things only members are allowed to play. Luckily, registering at Wink Bingo is easy and shouldn't take you longer than a wink. What's more, is that you can register just as easily on your tablet or smartphone as you can on your PC. It's as simple as pressing the 'Join Now' button and filling in your details. On your PC, no downloading of software is required to register and start playing, while on your tablet or smartphone you can choose to play in a browser or download the app from the App Store. One thing that you should definitely look into before you eagerly rush to make your account if whether your country is eligible to play at Wink Bingo in the first place. Though it's not really within the casino's control, there is a noticeably large number of banned countries of as present, including Albania, Armenia, Azerbaijan, Belarus, Belarus, Bosnia, Bosnia and Herzegovina, Bulgaria, Croatia, Czech Republic, Estonia, Herzegovina, Hungary, Indonesia, Kosova, Latvia, Lithuania, Malaysia, Moldova, Montenegro, Romania, Russia, Russian Federation, Serbia, Slovakia, Slovenia, Macedonia, South Africa, Turkey, and Ukraine. Furthermore, people from the following countries are prohibited from making deposits or playing the games, which to us is essentially the same thing as a ban: The United States of America, Israel, Turkey, Spain, France, Italy, Denmark, Belgium, Gibraltar, and Antigua.
Welcome Bonuses and other offers at Wink Bingo
Wink Bingo is one of those casinos where listing every single bonus opportunity in this Wink Bingo Review is pointless because there are so many that you really need to look them up for yourself just to see what's on offer and to see which ones you're going to gravitate towards. We will say that there's a really nice range here that will always keep you excited for your next deposit, starting with the welcome bonus, which is actually deposit-free. That's right – players get perks just for signing up, from a no-deposit money bonus to free bingo tickets. After that, there's the usual series of match bonuses, which don't amount to very high figures but are nice enough. That's not where the promotions end, though – that's not even half of it. You've got weekly cashback opportunities, as well as plenty of other seasonal and permanent promotion schemes. You will also have ample opportunities to win loyalty points, which can be exchanged to win bingo tickets. You can win loyalty points for (almost) literally no reason – buying tickets or joining chat games can see you raking in the points. If you're a more dedicated member, you'll definitely want to look into becoming a VIP member. Wink Bingo is a member of the Joy Gem VIP Club program, which is a network of online gambling outlets that share common benefits. There are three tiers here: Sapphire, Ruby, and Diamond, each with increasingly better bonuses and perks.
Casino Games in the Wink Bingo lobby
As we wrote above, Wink Bingo is not all about the Bingo. It's certainly the focal point of the whole operation, but there's also a pretty considerably well-loaded lobby with over 500 slots and other traditional games for your gambling pleasure. That being said, it's not fair that we overlook the bingo aspect of the site, because it's obviously its crowning jewel. Indeed, you'll find all the right varieties of the game here, including 75-ball bingo, 90-ball bingo, and loads more. Even better is that you have numerous ways of buying tickets, such as Advanced buying and Pre-buying. What about the rest of the casino games? We're really happy to report that we're not dealing with a compromise in quality. These games are not here just for the sake of them being here. There are some of the most popular and widely-acclaimed slot games here, like Starburst, Rainbow Riches, Guns 'N Roses, and Jack's Pot. It's very clear that Wink Bingo Casino is focusing on games that are either rich in features, up-to-date with modern expectations of animation, or both. A rather wide range of progressive jackpot games are also on the table here for anyone who's really trying to win big. As far the table games go, the variety is, as expected, not as vast (there has to be some kind of cut-off point somewhere!) but there's still enough to appease anyone who may be at least slightly into table games. You've got the usual options, with a couple of fun variations. We can't stop playing Deal or No Deal, for example! As you might have expected, there's no live casino to speak of here. We don't think it's a big deal considering the whole scope of Wink Bingo, but of course, we do respect that it may be a deal-breaker for some.
Banking Methods at Wink Bingo
Whether you're playing on your PC or on your portable device, making payments is easy, though there are different buttons depending on the device you're using: on PC lookout for the Cashier button, while on mobile the same function is accessible through the Banking button. That's all well and good, but is making payments a convenient process at Wink Bingo? You bet! Thanks to the utilisation of Brigend facilities, a member can have up to five payment methods registered to their account. If that's not a good idea, we don't know what is! Thanks to Brigend it is also super easy to input promotion codes as you make deposits. As for the methods themselves, all major credit and debit cards are accepted, as well as other payment systems including Neteller, Entropay, PayPal & Paysafecard. This is a really nice variety and means that it's unlikely that anyone will have any hassle when it comes to banking at Wink Bingo. There are also some really neat aspects of banking at Wink Bingo that we think will make this casino a point of attraction to prospective members. First of all, the minimum amount that can be deposited is a ridiculously low £5, and the minimum withdrawal amount is £10. It's clear to see why, of course – because this is technically a bingo site, so there's a lot more lenience in this regard. Still, it's of huge benefit even to people who sign up with Wink Bingo to play slots and other games, too! The caveat is that withdrawals take 2 days to be processed, but this gives you plenty of time to change your mind, should you want to. After the processing, you'll find the money in your bank account between 4-7 days. It's slightly lengthy, but still common and does not negate the great advantages mentioned above at all.
Player Support at Wink Bingo
Lots of casinos can simply say emptily and meaninglessly that players are the heart of the casino, but somehow with Wink Bingo Casino, we do believe it. You don't even need to directly contact the support team to get a feel for how this is true. The website's 'Help' section is impeccable and provides players with absolutely every detail they could possibly need. That being said, sometimes a 'help' section is not enough, and hands-on help is needed. That's where the support team comes in, and it is more than equipped to handle any concerns. Whether you prefer email, telephone calls, or live chat, there's an outlet for all three of these options.
Contact information:
Chat: 24/7 Live chat available
Phone: Phone is not available
This Wink Bingo Review should have you smiling all the way to the bank!
Wink Bingo Casino, we think, would be a great surprise to anyone who is looking for a high-quality online casino to sign up with. In that sense, the casino is also a bit of a misnomer – not because Wink Bingo doesn't excel at online bingo. It absolutely does, and for anyone looking for bingo specifically, we're happy to recommend it. However, the fact that it also hosts a whole other lobby of slot games and other table games is a huge plus and makes it much more than a regular bingo site. There are advantages to this that go beyond the gameplay. What you have here is essentially a Bingo-oriented casino with a regular casino built into it that is more than decent. Yet, the casino operates like an online bingo hall. That means that you can be a regular casino user, but get bingo-hall perks. This is most evident in the wagering limits, which make it super easy for anyone to make deposits in a very non-committal. It's more than this, though – the frequent bonuses are great, although the one downside is that they're not as high as you might get at other casinos. The flexibility with both PC and mobile is great too. So maybe what we really should be saying is that Wink Bingo is simply a casino that knows exactly what it is doing. The last question we'll answer then, is this: who do we recommend Wink Bingo Casino to? The short answer is everyone who is looking for a good casino, but the extended answer is a little more complicated than that. We see lots of types of people fitting in at Wink Bingo. If you're interested in both bingo and slot games, this is definitely the website for you. If you're a more casual player who doesn't mind relatively low bonuses if it means that you don't need to worry about making large deposits, this is definitely the website for you. On the other hand, if you need a lot of table game options, or if you like live casino gaming, you'd best look elsewhere. After all, there has to be at least one niche that Wink Bingo doesn't fill.