Relatively new to the online casino market, Vegas Crest Casino has made quite a name for itself. This comes as no surprise to us, as a quick look at the website and a run-through their games shows us this casino is truly worth the hype.
Vegas Crest Casino Screenshots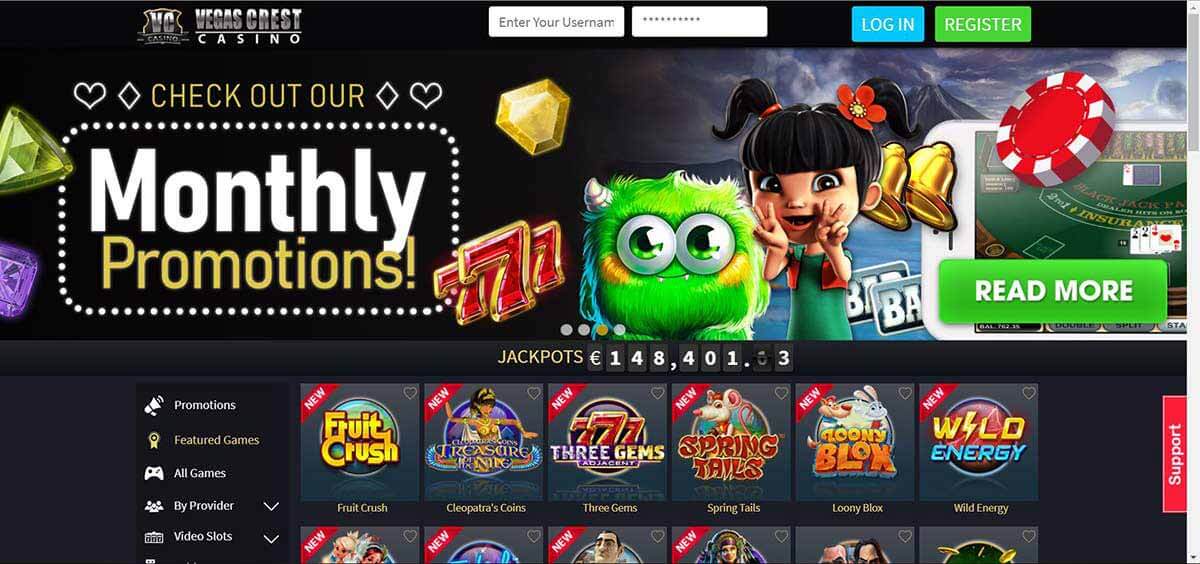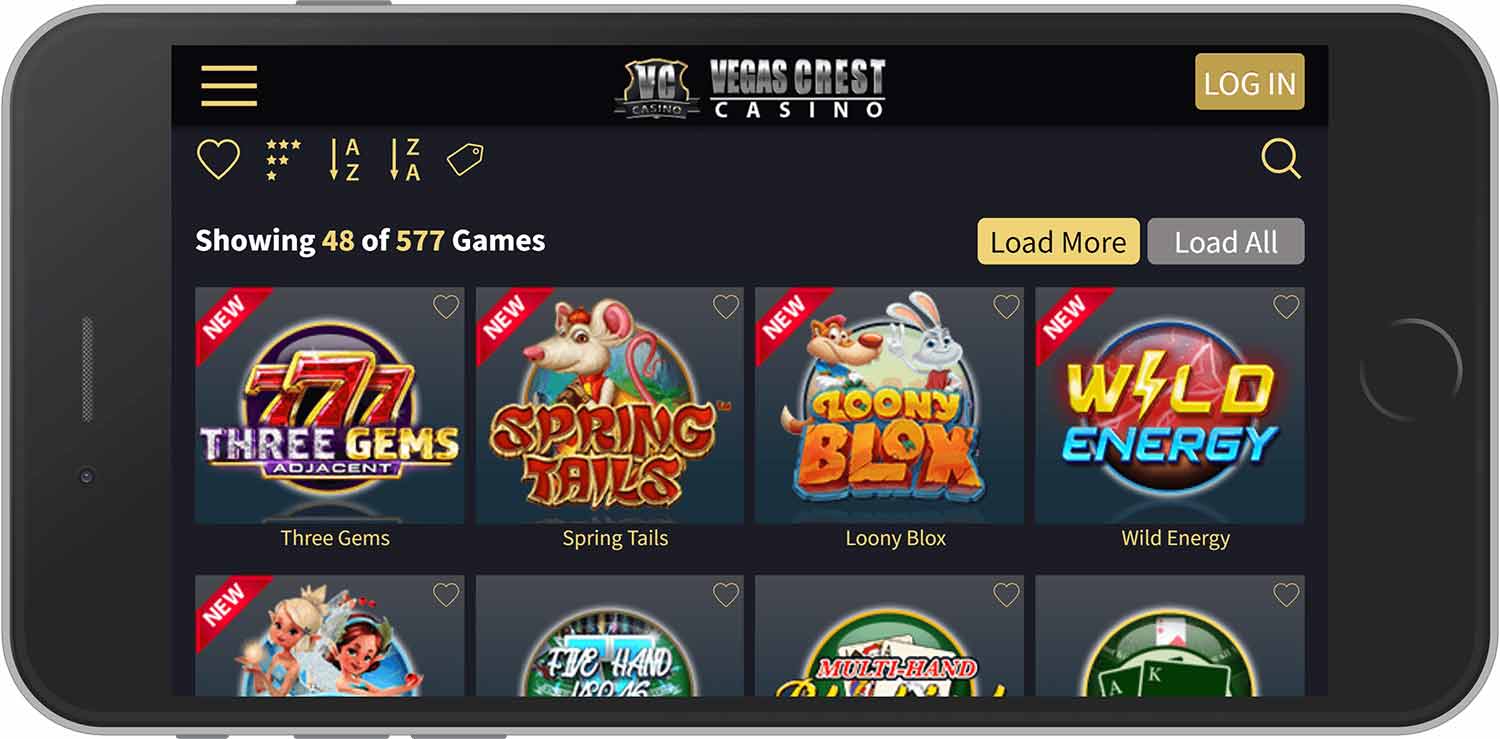 About Vegas Crest Casino
Established in June 2014, Vegas Crest Casino's first good move was roping in a number of prestigious software providers to power its games. Unlike other online casinos which sometimes run on only one software, the games lobby at Vegas Crest features Betsoft, Vista Gaming, Rival, Habanero and Saucify – all well-established companies with a great record for delivering amazing games.
Despite having a vast collection of games to suit many different types of players, Vegas Crest is a relatively straightforward website. Registering and making your deposit is simple, and the theme of the casino is made quite clear: Vegas Crest is a vegas-themed online casino with an incredibly generous welcome package, lots of different games and no live casino. For more information, keep reading this Vegas Crest Casino Review!
Registering an account with Vegas Crest Casino
Are you ready to start, but not sure how to register? This Vegas Crest Casino Review will explain the details, but it is very straightforward. Vegas Crest has made it very simple to sign up and get straight to the games. As with any other online casino, you will be asked to fill in a registration form. To begin, press the 'Register' button at the top of the screen. You'll be asked to pick a username and password, as well as provide some personal information such as name, e-mail, phone number, country and gender. To proceed, you will have to agree to the Rules and Regulations of the website – so we do recommend that you give them a read. You will also be asked to tick the Legal Policy stating that you are of legal age and that this is your sole account on the site. That's it! After registering and validating your e-mail, you can place your first deposit and start making use of the massive bonuses offered by this casino.
Vegas Crest Casino Welcome Offer
Online casinos make use of various promotions to get you interested in their casino and absorbed in the gameplay. Welcome packages are one of the most popular types of promotion used for this purpose, and the most effective, too! It is more likely that we will look forward to making our first deposit if it comes with a massive bonus. The no deposit bonus codes offered by this casino is a bit complex – but we will try to break it down for you. The amounts offered by welcome bonuses vary from casino to casino, with some being modest and others huge. One of the most attractive aspects of Vegas Crest casino is certainly the welcome offer – you'll be hard-pressed to find a welcome offer this good anywhere else. Visit the website for all the details.
Other Promotions at Vegas Crest Casino
The welcome offer is not the only promotion you can benefit from. In fact, you can enjoy bonuses every single day when you play at Vegas Crest Casino. There are various promotions and bonuses to choose from, according to how you want to play and which games you like. This casino is constantly giving! In fact, there are always quite a few seasonal promotions that you can benefit from. To access them, simply click on 'Promotions' on the top of the home page to see what is currently available. We recommend that you keep an eye out for offers daily, just in case you miss a good one!
Loyalty Program at Vegas Crest Casino
Loving the idea of Vegas Crest and their promotions so far? It only gets better. If you decide that Vegas Crest Casino is the casino for you (and we don't blame you!), it is recommended that you opt for the VIP Casino Bonus and Rewards. Basically, as a VIP member, you get to enjoy the welcome offer and all the other promotions – doubled. Moreover, VIPs receive €2 real cash for every €500 placed on slots, as well as double the Comp points and 4 points for each dollar bet placed on slots, and 2 points for every dollar bet on any other game. To become a VIP member, you need to earn a minimum of 100,000 Comp points a month. This will automatically qualify you as VIP and you will be contacted immediately.
Casino Games at Vegas Crest Casino
Vegas Crest Casino boasts some of the more unique games out there. Brought to us by a variety of software providers that are well-established but not as common as some other giants in the industry – Vegas Crest provides the perfect selection for those gamers looking for quality games that are a bit different. The casino operates on the Vista Gaming platform – a reputable company which holds many years of experience.
All games showcased by Vegas Crest Casino are flash-based, which means you only require a plug-in and no download. This is a huge plus when it comes to online casino games since downloading games take up a lot of time and disk space. To play any of the Vegas Crest casino instant play games, simply make your choice, click on it and wait for it to load on your browser. With these professionally-made games, there is no compromise to speed or quality – the games run just as smoothly on browser as they would if they were downloaded – if not faster!
Vegas Crest has a bit of something for everyone, whether you're into more traditional games or 3D slots, a beginner or an old-timer. The games list covers classic casino games such as Blackjack, Roulette and Poker, as well as a huge collection of video slots including progressive jackpots. As if this wasn't enough, the casino likes to sprinkle some added excitement into the gameplay by adding the occasional promotions and tournaments. Some of the most popular games which gamers keep coming back to include Fruit Zen, Windy Farm, and Zodiac. The graphics and overall quality of the 3D slots are impressive and certainly worth checking out.
Banking methods at Vegas Crest Casino
In many cases, online casinos have limited banking options. This is not the case at all for Vegas Crest, who have secured almost all major payment methods for their customers, albeit with some restrictions for certain countries. The accepted currencies are the US dollar, Euro, and British Pound. Payment methods accepted at Vegas Crest Casino are Visa/MasterCard, Skrill, Neteller, ecoPayz, UPayCard, Paper Check, and Bank Transfer.
Vegas Crest doesn't have a dedicated banking page (again, this is true of both desktop and mobile), and while you can piece the information together from various other pages it doesn't really make for the most hassle-free experience. There's some vital information you need to know about depositing and withdrawing money from Vegas Casino. Before you make your first withdrawal, you'll be asked to provide a few documents, including copies of your ID and proof of residence. You may even be asked to provide proof of ownership of the payment methods used. The minimum withdrawal amount of €100 which is a little on the high side, which to us tells us that Vegas Crest might be really trying to appeal to the high-rollers after all. The good news for the high-rollers though is that the maximum withdrawal amount is more or less limitless.
Customer Support at Vegas Crest Casino
Even the most reputable and straightforward casino websites can create issues for some players. For this reason, it is important for online casinos to have top-notch customer care services available and accessible to players at all times. Luckily, Vegas Crest is one of those casinos who understand the importance of taking care of their players. Vegas Crest Casino's generous offers stand as evidence for the company's dedication towards looking after their customers. This is also reflected in their customer support, which is available 24/7. Their team is particularly helpful on Live Chat, ready to help you with any issues or queries you might have. For less urgent matters, the support department can be contacted through e-mail and fax. To further extend their support to their customers, Vegas Crest also dedicates a page on their website to inform us about responsible gaming. It highlights some important rules to abide by in order to play responsibly and provides some helpful links to deal with gambling issues.
Vegas Crest Casino Mobile Review
Does this crest shine as brightly on mobile devices? We have to admit that although Vegas Crest claims that the website is optimised for all devices – and that includes anything from mobiles to widescreen devices like TVs, we did get some unsightly blurring when we loaded the website into our mobile browser. It was nothing too jarring, but nothing that any mobile player really wants to experience. Yet, the mobile version of the website is well-designed to fit the screens of various mobile phones and tablets and is still very easy to navigate through, which is more than what can be said for some other mobile casino sites.
Vegas Crest Casino Mobile Login
Before we get into the nitty-gritty of signing up with Vegas Crest (as nitty-gritty as signing up with an online casino can get), we will say that we were disappointed to find that there is a huge, huge list of countries with citizens that aren't eligible to play at Vegas Crest. This can be a complicated issue and it's not always the fault of the online casino per se, but it's still problematic when the list of banned countries would make up a considerable chunk of this review (in fact, we won't provide this list here). We guess it's true that whatever happens in Vegas, stays in Vegas.
As for actually making the account, it's a pretty easy process, and the same as on the full-site, except it's on mobile. All you need to do is hit the menu button, and you'll automatically be greeted with 'login' and 'register' buttons. After the whole shebang of filling in your details, you'll have to verify your account by confirming activation through an email that will be sent to you, and then you can start playing.
Choose from 300+ Casino Games in the Vegas Crest Casino Mobile Lobby
With over 300 mobile games, you would think that the games on offer here are pretty good – and you'd be right. As you'll soon find out, we think the games here are really neat and there's a variety that can prove to be pretty competitive. There is one caveat though, and it's that users aren't allowed to try out games before they sign up. 'That's fine', you might think, 'I'll just test the games in free mode on the desktop version' – except this is also true of the desktop version of Vegas Crest. In this day and age, it's a little off-putting that members can't sample the selection of games before they commit to signing up. Some people are willing to take the plunge, but many are just going to gravitate to a casino that lets them try the titles on offer. Testing out games for free should be an option, and for that matter, it should be an option regardless of whether you're playing on mobile or not. Now that that's out of our system, let's actually get to the games, which we had to sign up for (Okay, now it's out of our system. Promise).
Vegas Crest operates on the very reliable Vista Gaming platform, but you'll find a wide array of game providers here, such as Betsoft. There are plenty of slots games here, and thankfully they're not all the same. A few of them teeter on the blander side of things, such as Wild Tailgating and Santa's Kiss. These are games that are super simple and don't offer much in terms of features, but they might go down a treat with anything who just wants to spin and get on with it. We will say that the Christmas lights that serve as paylines in Santa's Kiss are super cute, though. We're mentioning those games first because they're what we played first, and anyone who thinks those games are representative of the whole Vegas Crest experience might not really venture further.
We're here to tell you that there are lots of more exciting slots games here – slots games with really well-done animations and exciting features. Here's we're talking about games like Enchanted, Rockstar, and Good Girl Bad Girl, just to name a few. In fact, Good Girl Bad Girl is really representative of how dynamic the games at Vegas Crest can be. You can change the volatility of the game depending on whether you choose to play as the Good Girl or the Bad Girl. The former will get you smaller, more frequent payouts, whereas the latter gives you larger, rarer payouts. The table games selection isn't very large but has some cool offerings, such as Craps, Red Dog, and Top Card Trumps.
The same is true of the Video Poker selection. It's there and probably scratches an itch for several people who play poker casually, but probably won't appeal to people who just want to play poker all day. Vegas Crest even has its own Keno and Bingo selection, which is a nice change from the myriad casinos that stuff these games into the 'other games' tab. As a result, there are plenty of quirky keno games here in particular, such as Veggie Keno, Keno BBQ, and Scary Keno. Hey, it takes all sorts.
The Vegas Crest Casino verdict is in!
Ultimately, it's fair to say that Vegas Crest is a casino that we can rate fairly highly, and that's true for the mobile version of the casino too. Sure, there are some glaring imperfections that we're not fond of – the fact that banking information is a bit all over the place; the fact that you can't try out the games before signing up; the slight blurriness on the mobile app. Yet, these are not details that ruin the casino experience here, but rather little annoyances that stop Vegas Crest from being that little bit higher on our list of favourite casinos. Let's face it, there is a lot to love here, with a really great selection of slots games et al, and bonuses that really hit the spot. We do feel that Vegas Crest has an audience in mind, and that's the audience of high rollers who will deposit and bet high numbers. This is a casino for the ardent casino player, which is absolutely fine to us.