As one of the first online gambling companies to offer bingo online, Unibet started with one simple idea – to create a site which predominantly targets female gamblers. And over the years, they've done really well leading the company to establish itself as one of the online casino giants in the realm. Since then, the site has grown into one of the most popular bingo rooms in Europe with over 35 bingo rooms where you can play 75-Ball Bingo, 75-Ball variant, 90-Ball Bingo and Pattern Bingo.
Unibet Bingo Screenshots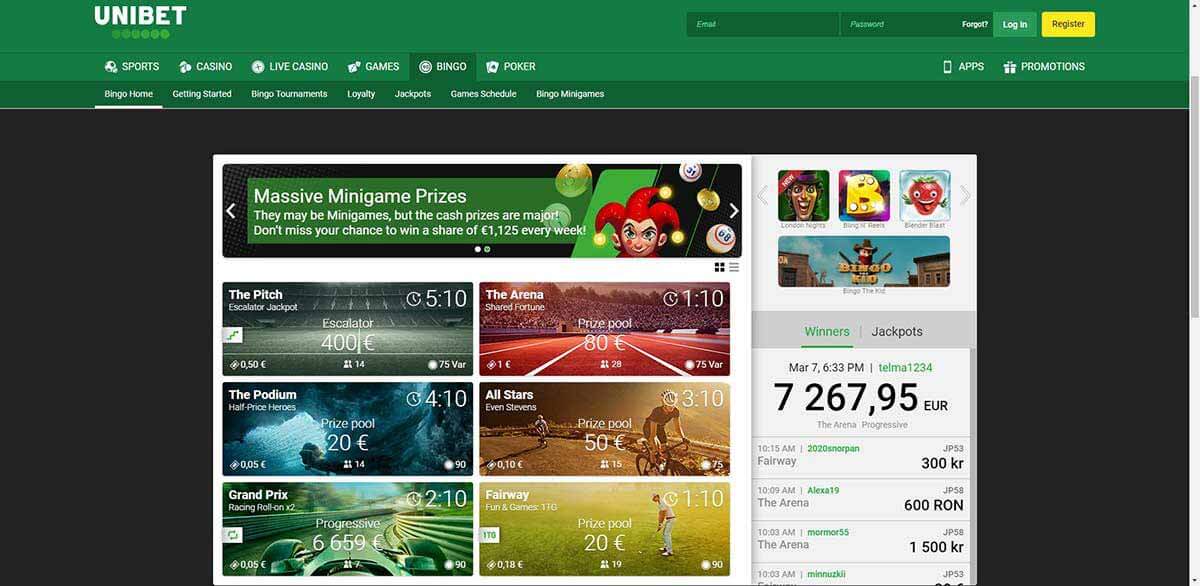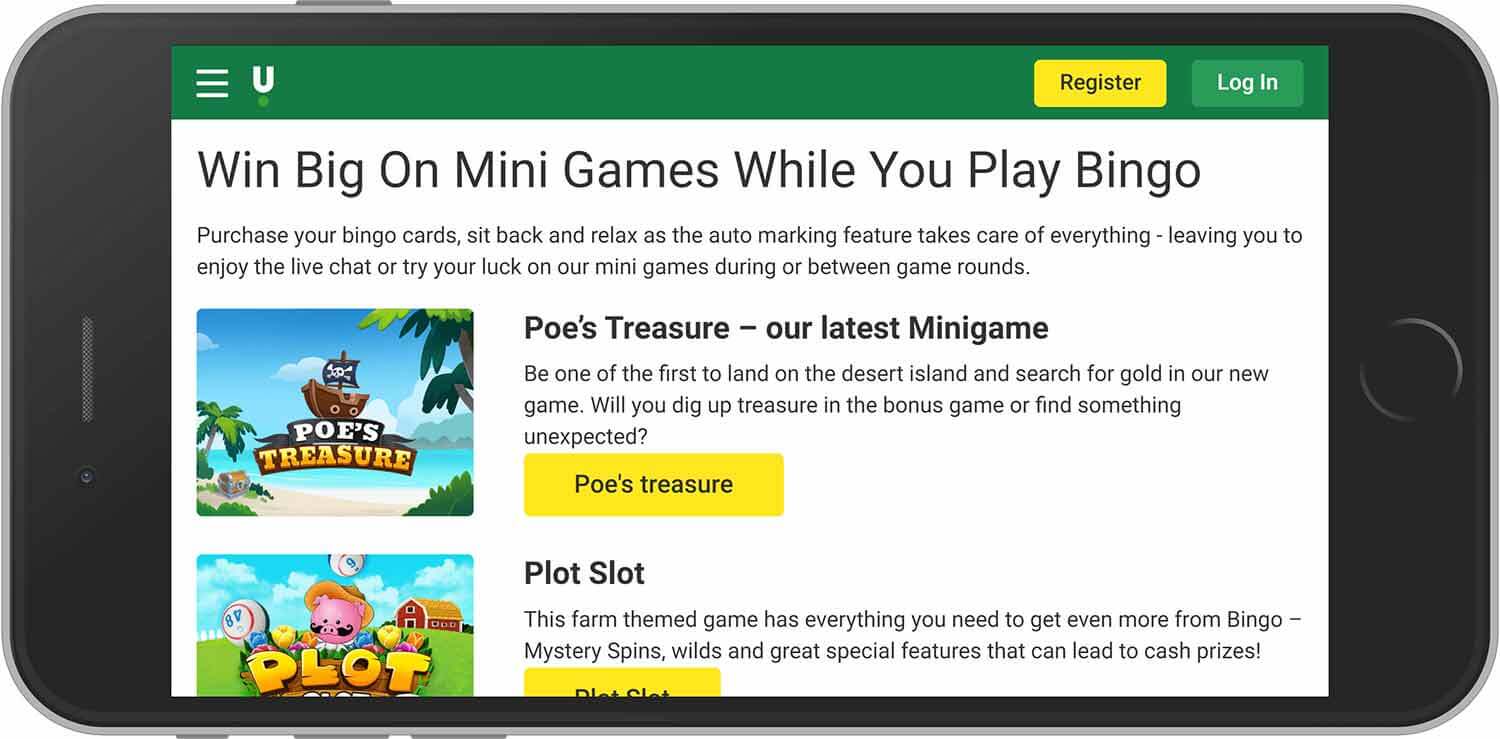 About Unibet Bingo
Most of us out there have often had the pleasure of enjoying a Bingo game at least once in our lives – I'm pretty sure at that. And for many of us who've chosen to play the lottery-based game time and time again whilst chitchatting away and marking down numbers, we've sadly had to wait a while to go to a bingo hall with friends or for a Bingo event to take place. Yet, in about 1997 this all changed when gambling companies took to the internet to provide games for people to play.
Of course, as an already established gambling company, Unibet was amongst the first to get in on the online Bingo action. The company, which was founded by Anders Ström, decided to step up a platform where avid Bingo players could play Bingo online from the comfort of their own home by launching their site in 1997. Since then Unibet's strong team of professionals in their field have fueled its success. The company currently employs about 1,000 people and has served an astonishing 15.8 million customers. Isn't that just awesome?
The Site's Modern Feel
When opting to play at Unibet Bingo, you'll notice that their site has a very modern feel to it. If you're new to playing Bingo online, you'll be glad to know that the site provides comprehensive Bingo guides. The games themselves are available in Flash format which means you won't have to download anything as such. All you'll need to do is access the games through the site itself. Once you've clicked on a specific game, your flash player will then load the game. So, just make sure it's up-to-date before you attempt to start playing.
Unibet Bingo, which is run by Kindred Group, is maintained and regularly updated by site managers who are responsible for its daily upkeep. So, you won't find any promotions out there which are expired. Other than that, the customer support at Unibet Bingo is absolutely superb, especially when compared to other online casinos in the gambling realm. Players will also be happy to know that there is support via phone, e-mail and Live Chat while language support is offered for almost all of Europe.
Casino Promotions & Unibet Bingo Bonus Codes
Unibet has become extremely popular since it first launched. And part of the reason, it's become so successful is because it offers players fantastic sign-up bonuses and promotions. Have a look below to find out all about what's on offer!
Unibet Bingo Bonus
Players registering at Unibet Bingo get a match bonus when depositing for the first time. It's only valid in Euro rooms but it's a great way to get familiar with the games!
Other Promotions
Apart from signup bonuses, there are various other bonuses that you can take advantage of when playing Bingo online at Unibet Bingo.
The Unibet Bingo Experience – Sign Up to Play its Fantastic Games!
There's absolutely no doubt that part of what makes Unibet Bingo so fantastic is its state-of-the-art software which allows gamblers to step into a virtual bingo hall. All their Bingo games are available through browser. So, the great news is that you won't have to download anything in order to enjoy a bingo game. All you have to do is register at Unibet Bingo by going to their sign-up page and registering your name, last name, e-mail, date of birth, country, postcode and mobile number. Then you'll need to verify your account and deposit an amount to get started and be eligible to receive the online casino bonus being offered.
Bingo Games on Desktop & the Unibet Bingo App
Unibet Bingo likes to stick to frill-free Bingo classics in terms of what they offer. These include both the 90 as well as 75 ball game variations. However, what's perhaps most interesting about their mix of Bingo games is the fact that it includes Team Bingo and Progressive Unibet Bingo jackpot too! Whilst playing any one of their Bingo games, you'll be able to chat with other players. And your fun won't just stop at playing on desktop, you can play whilst on the go too!
Playing one of their Bingo games will not only mean that you'll have the chance to play Bingo on your desktop, but you'll also have the opportunity to play whilst you're away from your desk too!
Bingo Mini Games
Other than Bingo, Unibet Bingo provides a gambling experience that you can't usually experience when playing at a brick-and-mortar Bingo hall. That's right folks, when playing Bingo you can also play Mini Games. The great news is that playing mini-games whilst using the auto marking feature on Unibet Bingo will enable you to win real money! Among the games you can play are Moby Dick, Miner Moe, Old MacDonald, King Stones, Nutty Night Bingo, Moody Monsters, Rainbow Rush and Money Mansion. Simply take your pick and get started!
Bingo Tournaments
Unibet's Bingo Tournaments are truly one of a kind. Playing them happens to be one of the best ways to earn rewards and money whilst playing your favorite game of luck and chance! All you have to do to be eligible to play is sign up and then navigate to their bingo tournaments page. Tournaments are typically displayed on this page together with each individual prize.
Casino Games at Unibet Bingo
Other than Bingo games, you'll also find other casino games there too. These include Slots, Instants and Live Casino games. As previously mentioned, there's no need to download any software as you play directly in your web browser using flash, and the chat feature lets you chat it up with anyone at any time. Unibet also offers a range of casino games along with the regular Bingo games, including multi-reel Video Slots, Video Poker, Keno and mini Slots.
Easy Ways to Deposit & Withdraw from Unibet Bingo
One of the things that players are most concerned with when playing online are online casino payment options that can be used to make both deposits as well as withdrawals. Despite the fact that online payment transactions were viewed with great suspicion before, most are safe to make transactions with. And you can rest assured that Unibet Bingo only offers the crème de la crème of payment options for players to make deposits and withdrawals from.
Deposits
With Unibet, you're free to choose any of the deposit methods available. So, no matter if you want to use cards like debit cards, e-wallet or bank transfer you'll always find something worth using. In regards to cards, Unibet Bingo uses two of the best in the biz. These are none other than *drum roll please* – Mastercard and Visa. You can also use Visa Debit and Visa Electron, if you've got one of these instead of Visa in its classic form. When it comes to e-wallets, you can use Neteller, Skrill, Paysafecard, PayPal and Click2Pay. These will enable you to keep all your card information securely stored in one place. Other than e-wallets and cards, you can also make deposits and withdrawals with bank transfer. These include Online Bank Transfer, Fast Bank Transfer, Swedbank and more.
Withdrawals
If lady luck happens to be on your side and you happen to win a large sum, there's no need to fret about withdrawing your money! Most of the time, you'll be able to withdraw by using the payment methods you've used to make a deposit. However, this isn't always the case. So, you should definitely check out if you can do so before playing. Before attempting to withdraw, you must meet the wagering requirements. The minimum withdrawal amount is usually £/ € 15 and processing time takes 3-6 days to process.
24/7 Help & Customer Support at Unibet Bingo Review
The great thing about playing at a site with an already established brand is knowing that they're serious about maintaining relationships with both existing customers. And this is certainly true when it comes to Unibet Bingo! The company has always been very customer-centric. Hence, they not only attempt to provide fantastic games to play, but they also provide great customer service to go with it! So, if you ever have a problem whilst playing at this site, you can rest easy as the company provides 24/7 customer support!
Other than having quite a comprehensive FAQs section which goes through everything from setting up an account to bonuses, Unibet Bingo's customer support comes in three other forms too! These include live chat, email and phone. Their live chat is available 24/7 through their contact us page. On opening live chat, all you'll need to do is type your name, email and initial question. Then just click on the 'Start Chat' button and you'll be able to talk to one of their support staff almost immediately. Alternatively, if you prefer talking to a member of staff over the phone, you can always phone their Freephone number on 0800 329 393 provided that you live in the UK. Customer support is available through UK phone lines from 7am – 11pm. If you don't live in the UK though, you can always phone on their international line which is 0207 257 8701. However, operator charges apply for this service. So, if you're not prepared to foot the bill for contacting members of staff by phone, opt for another form of customer support such as live chat or email. Simply type out your query and send your email to [email protected] . Once you have, a customer service agent will send you a reply.
Languages at Unibet Bingo
Other than English, Unibet Bingo also supports various other languages. These include the likes of Danish, Dutch, French, German, Spanish, Italian, Portuguese, Russian and Swedish. So, if you're not fluent in English and would like to play games in your own language, you'll definitely find online casino games which support your language at Unibet Bingo.
Chat: 24/7 Live chat available
Phone: Phone is not available
Security Features at Unibet Bingo
When playing at Unibet Bingo, you can rest assured that the site is both safe to play at as well as that it takes fairness very seriously. Unibet is licensed and regulated by the reputable UK Gambling Commission. In order to make sure that the website is secure, they've implemented an SSL 128-bit encryption on their site. Their SSL certificate has been verified by Trustwave. It provides privacy, security and makes sure that both the users' information, as well as the website's, is secure. Any payments made to the site using card details are only sent once over the internet over to Unibet. Data is then stored and encrypted in Unibet's secure system. The site has an intrusion detection system which monitors all network traffic 24/7 for signs of fraudulent activity.
In terms of fairness, Unibet Bingo also makes sure that their casino games all use a Random Number Generator (RNG). This is to ensure that outcomes are generated totally at random. All their games are independently tested by Technical Systems Testing (TST) and only games which meet their expectations are put on Unibet Bingo's site and made available to play. So, you can definitely rest assured that there's no manipulation involved.
Unlike some other online casinos out there, Unibet really takes responsible gambling seriously. In fact, the online gambling company was crowned 'Socially Responsible Operator' at the IGA awards in 2016. Just like other sites who are considered to be responsible, Unibet does not allow gamblers who are under the age of 18 to play at their site for real money. Moreover, the site has a whole article which is dedicated to knowing when to stop and advice on how to limit how much you spend. It also provides plenty of links to online support.
Play Online Bingo at Unibet Bingo & Win Real Money!
Playing a game of Bingo has never been so easy thanks to Unibet Bingo! The well-known brand offers the best in bingo entertainment for you to play from the comfort of your own home. You can also play whilst on the go if you wish to though you're their mobile app which is compatible with both mobile and tablet. Great, huh?
| | | | | |
| --- | --- | --- | --- | --- |
| | Unibet Bingo Dailies - Challenges, Tournaments and Giveaways | | Sign-Up | 18+ | Play Responsibly | T&C Apply |