Our PokerStars Casino review looks at the new version of PokerStars in the USA, which is accessible to players in the states of Michigan, Pennsylvania, and New Jersey. The site has retained its sleek design and the majority of its branding, it also has a decent amount of games, great security features, and responsive customer care. Want to know more? We explore each element in the review below.
Overview about PokerStars Casino
Back in 2001, PokerStars casino burst onto the global scene and provided many Americans with one of the first platforms for online poker. By 2011, however, the US Department of Justice's ruling saw the site close its doors and it wasn't until very recently that the site reopened to players from two particular states as PokerStars Casino. The two states in question are Pennsylvania, which legalized online betting in 2017; and Michigan, which followed in 2019.
PokerStars Casino by PokerStars is now available to players from those three states given they are 21 years or over, and what they will find is diluted – though no less fabulous – version of the European PokerStars casino, complete with slots, casino races, card, and table games, and live dealer casino games. As we explore in our PokerStars Casino review below, the brand also has a decent welcome bonus, a beautiful mobile app, plenty of security and responsible gambling features, and great customer service. All in all, we feel that this casino has made a strong comeback to the States, but while the foundations are now perfectly set, we do hope to see an increase in the number of titles available and of the number of payment methods accepted.
PokerStars Casino Screenshots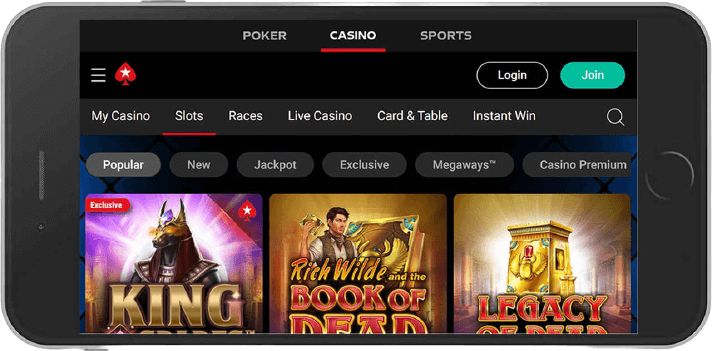 Pros & Cons of PokerStars Casino
PROS
Respected Brand
Great for Security
Many Games
PokerStars Casino Bonuses
When it comes to bonuses, Star Casino players from Michigan and Pennsylvania have access to pretty much the same deals.
Welcome Bonus
New players who wager at least $1 within the first five days of creating their account, can receive a $50 instant bonus. To get this promotion, players must opt-in to the promotion by heading to the My PokerStars Menu and click on the 'Challenges' page. As always, it's good to read the terms and conditions of each and every bonus that tickles your fancy. The ones for this particular bonus explain that this bonus can be used on all casino games, but must be used, and wagering requirements must be met, within seven days of receiving it. The wagering requirements here are to earn two (2) redemption points for every $1 of bonus money awarded, in other words 100 redemption points within seven days. Just in case you are wondering, redemption points are earned every time you play a real-money casino game on PokerStars Casino, with each type of casino game needing different amounts of money wagered to earn you a redemption point (hint: Video Slots are your best bet!).
Daily Instant Bonus
Every day, PokerStars Casino also gives you the chance to get an extra instant bonus. This must also be opted into through the My PokerStars Menu, and the rewards range in size with a $500 bonus being the top prize. The terms and conditions, which we recommend reading, state that two redemption points need to be earned for every $1 of bonus money received within seven days for the bonus to be cleared.
Tuesday Treat
If you've got a Facebook, Instagram or Twitter account and a casino account, then you could win an extra $50 bonus every Tuesday. All you need to do is follow the brand on Facebook (@StarsCasinobyPokerStars), Instagram (@Stars_Casino), or Twitter (@StarsCasino), answer the question posted every Tuesday on any of these platforms, and share the post. Five lucky winners will get $50 each. Always read the terms and conditions!
How to Sign Up to PokerStars Casino
If you're a player from the states of Michigan or Pennsylvania, then you'll be happy to know that signing up to the casino is an easy but very secure affair. Below, we give you a step-by-step guide on how to do it.
1. Step 1
Head to the PokerStars Casino by PokerStars site using one of your links and choose which state you are accessing the casino from. The options are Michigan, Pennsylvania, and New Jersey. At this point, it's important that you aren't using a VPN so the site can authenticate your location.
2. Step 2
Next, click on the sage-green 'Join' button located on the top right-hand corner of the site. This will open up a pop-up window, where you can begin your two-step authentication process.
3. Step 3
On the first page, you need to input your e-mail address, and choose a username and password that you will then use to access the site. Once done, click on the green 'Continue' button.
4. Step 4
On the second page, you will find three boxes. The first is to consent to receiving marketing material, the second is to confirm you are at least 21 years old, and the third is to confirm that you have read, understood, and accepted the Privacy Policy of the website. While the first of these can be left unticked, the last two must be ticked for the process to continue. That's it! Your account will be created within seconds, and the next pop-up will let you make your first deposit. Of course, don't forget to claim your bonus!
PokerStars Casino Review: Games & Software
Whenever we're working on any of our reviews, we spend quite a bit of time looking at what sort of games are on offer at the casino. After all, players join such online establishments for one reason: to play their favorite gambling games! When it comes to games, PokerStars Casino by PokerStars has a decent (though small by European online casino standards) variety of options both for players accessing the site through their desktop and mobile browsers, as well as for those downloading the PokerStars Casino App.
Slots
Like all casinos, PokerStars has a decent range of video slots on offer including iconic titles like NetEnt's Dead or Alive?, Starburst, Gonzo's Quest, and Conan the Barbarian. Users will also find a handful of exclusive titles only available to players of this casino, as well as a number of Megaways slots, which have an updated mechanism that gives you more wins.
Card & Table Games
European and American roulette, blackjack, baccarat, deuces wild, and poker are among the card and table games available to players on PokerStars Casino. These games are played against the computer, with a random number generator (RNG) controlling the gameplay. Don't worry, though, these RNGs are certified to be fair and will not alter your chances of winning.
Live Dealer Casino Games
If you want to live the excitement experienced at a brick-and-mortar casino, then live dealer casino games are what you should be playing. In this section, you will find games like blackjack, baccarat, and roulette which are overseen by a real-life dealer with who you can engage with and observe.
Payments
It doesn't matter where you come from: if you want to play real money casino games, then you will need to deposit money to be able to do so. And, needless to say, if you win, you will want to withdraw your winnings and use them for other things. So, where does PokerStars Casino stand in terms of payment options available for Michigan and Pennsylvania players? The list here is not bad, with a mix of credit cards, eWallets and other services on offer. During our PokerStars Casino Review, we found that the casino accepts Visa and MasterCard credit cards, as well as the cash transaction network PayNearMe, to make deposits but not withdrawals. eWallets PayPal and Skrill, however, can be used for both, as can Instant e-Checks. The casino also accepts PokerStars Transfer (which utilizes your bank account) for deposits, but not withdrawals. All of these options are available on the desktop site, the mobile app, and the mobile browser app.
Non-Negotiable Features
Somethings at online casinos are must-haves. Of course, with PokerStars casino being in possession of so much experience, you will know sure that they have made sure their non-negotiable features are spot on. Let's take a closer look.
Customer Support
Having a casino you can count on is incredibly important, especially since you're going to be giving them your personal and banking details. In this area, PokerStars Casino does not disappoint. For a start, the brand has an extensive help section where everything from mobile connection stability to resetting a forgotten password are explored. There's not much you can't have answered here, but if your problem is more particular, then you can contact them directly once you are signed in. To do this, you will need to head to the Contact Us section, which you can get to by following these steps: Account > Settings & Tools > Support > Contact Support/Help > Contact Us! The casino usually answers queries pretty quickly and efficiently.
Safety & Security
Safety should always be your main concern when playing online casino games, and this is where a brand like PokerStars is so desirable. Since 2001, PokerStars has been one of the top players in the industry, and it has catered to thousands upon thousands of players from across the globe. A reputation like this wouldn't have been possible to pull off if the brand had not kept its end of the deal and protected its clients throughout its history. On top of that guarantee, there are also other things you can look for to ensure the casino is indeed safe. Next to the PokerStars Casino URL, you will notice a little lock icon. This means that the site is SSL-encrypted, which is no many words means that any information exchanged between your device and the site cannot be accessed by any unwanted third parties.
Mobile Casino
If you're one of the thousands of Michigan and Pennsylvania punters who enjoy playing casino games on your iPhone or iPad, or your Android phone or tablet, then PokerStars Casino is totally for you. The casino has a dedicated app, which can be downloaded directly from Apple's App Store or Google Play (just search for 'PokerStars Casino'). This app is visually stunning and technically accessible to everyone. In fact, it makes gameplay that much easier as it has features that cannot be found on the desktop site, with the most important of them being the tool that helps you filter out play money or real-money apps with ease. Of course, as is typical for such apps, there are fewer game titles on it than there are on the desktop site, but there are still many games to choose from and PokerStars Casino is planning on adding more in the near future.
Our Verdict: PokerStars Casino Review – A Great Fresh Start
It's wonderful to see PokerStars returning to the USA in the shape excellent online casino. Indeed, although the sites catering to Michigan and Pennsylvania players do not have the thousands of games usually seen at European casinos or those in many other parts of the world, they are a fantastic restart to this relationship and we can't wait to see what the company will bring to the table next.