Spartan Slots Casino – now that's a name that gives off a macho, manly vibe. As the cliché goes, though, first impressions are often wrong, and you may be surprised to learn in this Spartan Slots Casino Review that this particular casino is a strong supporter of social corporate responsibility, giving strong donations in benefit of breast cancer awareness. Why is this relevant to your enjoyment of Spartan Slots? Simply because it's a fair bet to think that if a casino is so generous to the public community, it probably extends that same generosity to its own casino members. Plus, we think that it is always a lot more wholesome to be a member with this kind of organisation. If you're a member of Spartan Slots Casino and someone tells you that gambling is selfish, you'd know just what to say!
However, charity is hardly the only reason why you'll want to give Spartan Slots a try. In fact, when we first looked into the casino, our expectations were relatively high. After all, Spartan Slots has been operating since 2010. At this point, that's over half a decade of solid experience – and in that half a decade it's built a strong following. When we first logged in, and every time we logged in after that, there were well over 2000 active members playing online. The casino has jurisdiction in Curacao, Netherland Antilles, so the reputability was favourable. Were our expectations met, though? Our reactions are what you'll get in this Spartan Slots Casino review, as well as an overview of the overall features that would be waiting for you should you sign up.
Spartan Slots Casino Screenshots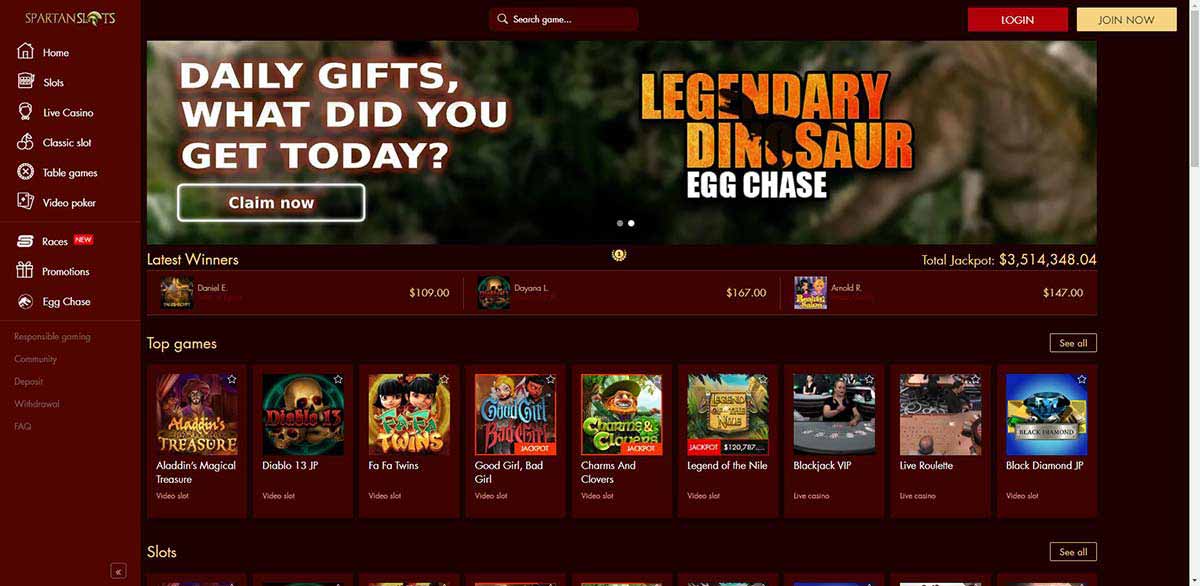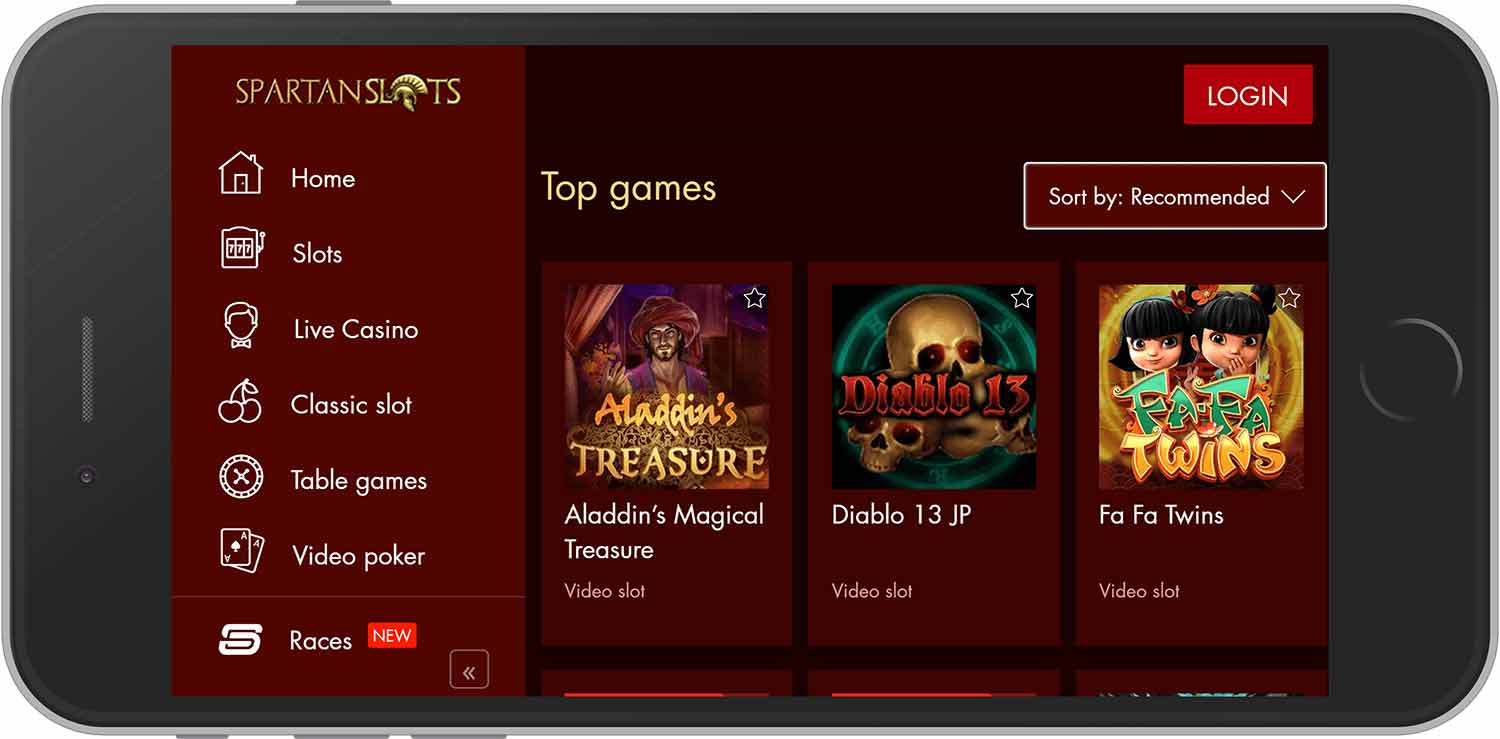 How do you get started at Spartan Slots Casino?
There's very little to say about signing up with Spartan Slots, as it's a simple, straightforward affair as it is with many online casinos. All you need to do is press 'free sign-up' at the top of the home screen and fill in your particulars, with the option of entering a bonus code should you need to (more on bonuses later). One of the things we noticed, though, is that there is a small number of countries that are unable to sign up with Spartan Slots. To be fair, this is a common affair, and not always determinable by the casino itself, but it's still a bummer for many people who would have wanted to get in on the fun. Countries excluded from Spartan Slots are the following: the United States, Israel, Ukraine, Canada, and Costa Rica.
What bonuses can you get at Slots Spartans Casino?
It seems that potential casino members look out for bonus opportunities with more attention than they do games! If you're that kind of player, you won't have any issues at Spartan Slots Casino, as there's a really enticing bonus package offer here that can give you a great balance boost.
There are no game restrictions as to what you can use the bonus on, so whether you're into slots or keno, you'll be set. Do be informed, though, that to access the bonus you'll need to deposit a minimum of $25, or whatever the equivalent to that is in other currencies. If you like the casino enough to want to build up its army, there's also a nifty Refer-a-Spartan bonus you can make use of, which will get a bonus amount of $50. Though not a bonus per se, if you're invested in your casino playing, you might want to enrol in Slot's Spartan's VIP Club. The higher up the VIP tier you go, you get extra benefits that will make your membership even more worth your while, such as by getting access to exclusive games and promotions. Besides this, the number of your bonuses will increase, too! As a VIP, you'll also be able to enrol in special tournaments and sweepstakes that can have you really earning gargantuan amounts. A current VIP Showdown, for example, holds a progressive prize pot of €200,000! In addition to VIP perks, there are quite a few other promotions that are periodically set up at Spartan Slots. There will be different ones set up depending on when you sign up with the casino, but it would be a good idea to browse more of the current promotions available so you have a basic idea of what kind of extra perks you can expect to get at this casino. Members currently signed up with Spartan Slots, for example, have the opportunity to win a pair of tickets to the Rio Opening Ceremony for the Olympics on the 5th of August! Even if you don't win these tickets, we applaud casinos who go the extra mile to make sure their members can also win real-world prizes, alongside the more standard affair of cash bonuses or free spin opportunities – it's refreshing!
What are the games like at Spartan Slots Casino?
You won't get any special prizes for guessing what the main focus at Spartan Slots is with regard to its game selection (hint: it's in the name), but the casino is more than a one-trick pony, so you'll definitely find what you're looking for if you're more of a table games fan or even a fan of Bingo. That being said, you won't find much of what you're looking for, though, because the casino currently has a little under 100 games in its roster, which doesn't really allow for a huge amount of variety, especially when there's a solid focus on slots. Still, unless you're really into playing all the available variations of classic games, you should be fairly happy playing the more classic offerings at Spartan Slots. We were definitely thrilled to find out that what the casino lacks in its game selection it makes up for in its payout percentage rates. The average payout is that of 97.5% – a rather high number and a sure welcome to anyone who really wants to win at casinos the right way. We're also glad that Spartan Slots has chosen to make use of multiple games suppliers to make its experience diverse. Whereas some casinos are happy to only make use of one game software provider, Spartan Slots houses games from Rival Gaming, BetSoft, Parlay Entertainment, and Pragmatic Play. This diversity means that you're bound to find titles you like, regardless of what kind of game you're into. As we said earlier, it's quite clear that most people will be attracted to this casino for its slot options, and indeed we found ourselves very pleased with the animation and wild features of many of the games we tried for this Spartan Slots Casino review, such as Dwarven Gold Deluxe, Alkemor's Tower, Good Girl Bad Girl, GreedyGoblins, and more! Live Casino game fans will also find some level of satisfaction here, although there are currently only three titles on offer, namely Live American Blackjack, Live Roulette, and Live Baccarat. If you're a real diehard for the live gaming scene, you may want to look elsewhere, but if you're a more casual live gamer you'll be just fine playing here (some of the live gaming is offered by Vivo Gaming).
What are the payment options like at Spartan Slots Casino?
Members of Spartan Slots should have very little issues when it comes to payment. For starters, there a number of available currencies you can use, including Euro (€), Great British Pound (£), Canadian Dollar (C$), Australian Dollar (A$), and South African Rand (ZAR). As for the banking options themselves, there are plenty for you to choose from, and it's unlikely that you won't have an account with at least one of these methods already. Furthermore, Spartan Slots has thankfully seen to it that in some cases it will be possible to make withdrawals using the same method you use to deposit. Here are lists for the deposit and withdrawal methods you can use at the casino: Deposit methods: Deposit Visa, Mastercard, American Express, Gold-Pay, E-Check, NETELLER, UseMyWallet, eWalletXpress, EcoCard, Click2Pay, Moneybookers, UseMyBank, and ClickandBuy. The higher up the ladder you go in the VIP section, the higher your withdrawal allowances get.
What level of customer care can you expect at the Spartan Slots Casino?
The first thing we said in this Spartan Slots Casino review is that we were convinced that the casino was one that took care of its members, and upon further inspection, we can confirm that we were definitely right! There's a 24/7 support team that you can contact for any necessary reason, and it can be reached in three ways: by emailing them, by calling them on their 24/7 toll-free Australian and international telephone lines, or by making use of their live help feature. In addition to helping out with queries and technical issues, Spartan Slots also helps its members battle possibilities of addiction, by allowing them to set limits on wagering amounts, or excluding themselves from specific games.
Customer Support
Chat: 24/7 Live chat available
Phone: Phone is not available
Should you join Spartan Slots Casino?
All in all, there's not much we can criticise about Spartan Slots. Sure, the game selection could be a little vaster, and sure, we couldn't find much in the way of innovation here, despite the fact that the casino holds innovation as one of its values. Yet, that doesn't change the fact that in the few years that the casino has been active, it has managed to build a formidable following that enjoys what it's doing. It is more of a standard formula, to be sure, but that's what currently works about Spartan Slots right now: it's a solid casino offering a solid, tried-and-tested casino experience. Perhaps down the line, we will be able to call Spartan Slots a truly unique casino, but we definitely won't scoff it until that happens. In other words, no matter how you look at it, Spartan Slots is definitely doing something right. That means that we are absolutely confident that whatever slight adjustments need making, the team behind Spartan Slots will adhere to them in the future as it keeps honing its winning formula. Besides, no empire can grow without its soldiers. In this case, they happen to be Spartans. You might not become the next Leonidas by joining, but it sure doesn't hurt to try.