Slots of Vegas prides in being the more economical and more available online alternative to Sin City itself. Available anywhere with a wifi connection at any time of the day and equipped with more than 80 online slot games (three-reel and five-reel slots) it is easy to say why they claim to be irresistible to use, even if the player is physically in Vegas themselves, strapped of cash and bored in their hotel room! The fun never ends and is available to everyone.
Slots of Vegas Casino Overview
What stands out amidst Slots of Vegas' many perks is their sign up bonus. We'll talk about it more in detail later, but the website promises more great deals if the player is enjoying the ride and wants to improve it with a VIP membership. Joining the VIP programme is like a recurrence of the welcome bonus. Slots of Vegas call it 'the ultimate gaming experience' and we certainly think that's a justified hyperbole.
Desktop/Mobile experience at Slots of Vegas Casino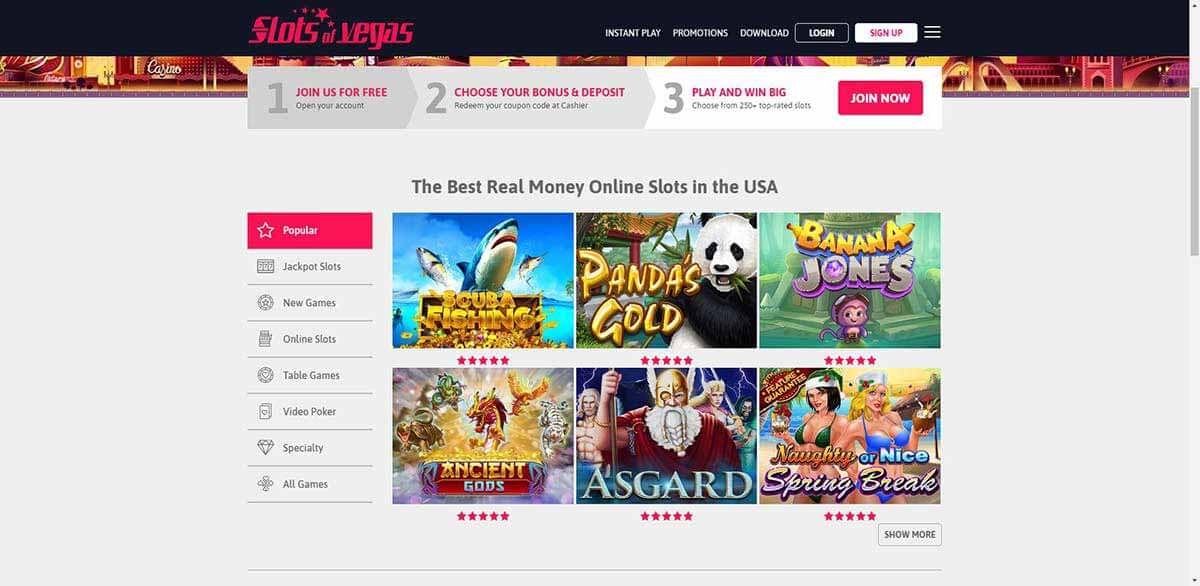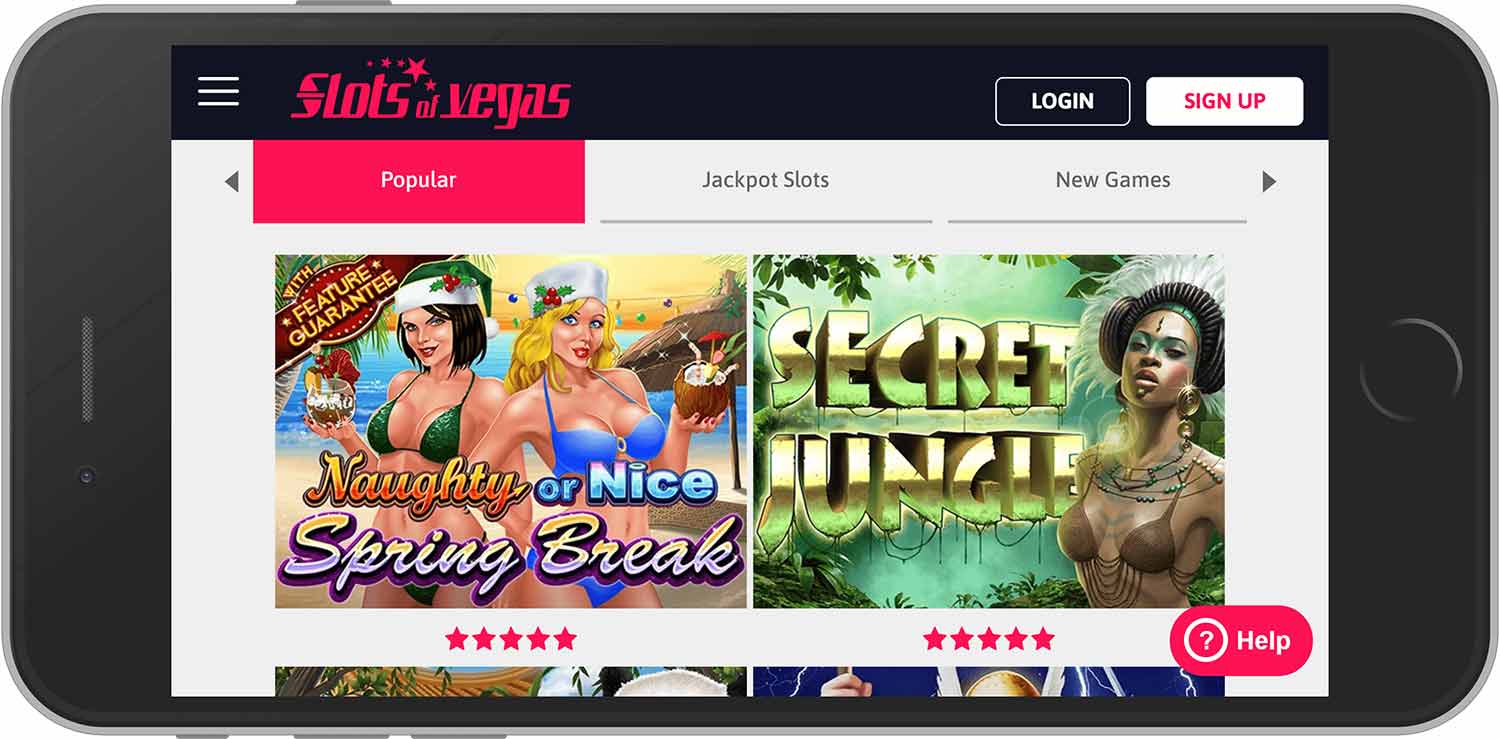 Slots of Vegas Casino Pros & Cons
Pros
Good Variety of Payment Methods
Real Time Gaming Games
Good 24/7 Customer Support
Good Bonuses
Cons
Games from only one provider
Slots of Vegas Casino Bonus and Promotions
Let's take a look at the great bonuses and promotions that Slots of Vegas have got in store. It's always great to have access to amazing deals. After all, if a casino offers great bonuses, it means they deeply care about their customers. Let's check out how the Slots of Vegas Casino bonus ranks!
Welcome Bonus Offer
Slots of Vegas boasts a fantastic New Player bonus (in other words, a Welcome Bonus) to anyone signing up. If the player isn't so keen on slot games they can opt for all allowed games welcome bonus. This bonus is valid for one time only. Besides this fantastic way to start the Slots of Vegas experience, there are still great perks that help keep the gaming spirit high. The player has access to Daily Special promotions and bonuses with any deposit that they make on the day. These bonuses come in different categories for video slots and all slot games and are valid until midnight.
VIP Program
Slots of Vegas has games and bonuses for all types of players but it does have a rich (mind the pun) selection of 4 different VIP Programmes to benefit from. Let's begin with the High Roller, upon a one-time deposit of $500 brings with it a 10% monthly insurance on the player's losses, up to three times of cash out with free chips, and up to two times with comp points. Following the initial bulk deposit sum, the player has to keep at an average deposit of $100 minimum. One can also achieve instant High Roller status upon reaching the amount of $10,000 in lifetime deposits. With this pattern in mind, we then have the Silver VIP, Gold VIP, and Platinum VIP programmes which are achieved with a one-time deposit of $1,000, $5,000, and $10,000 respectively and have perks that increase in levels of luxury, all the while being protected by a percentage of Monthly Insurance on the player's losses.
Other Promotions
Unfortunately, at this moment, there are no other active promotions at Slots of Vegas- However, if you sign up, make sure to always keep an eye out for great deals!
How to Sign Up to JustWOW Casino
Getting started with JustWOW is effortless. To ensure you do everything right, follow our registration guide below:
1. Select a casino
Check out our casino reviews and pick out a casino. For example, Slots of Vegas could just be the one for you!
2. Create an account
Once you're at Slots of Vegas Casino, click the "Sign Up" button. Complete the forms once the tab opens.
3. Make a deposit and claim the bonus
After verifying your account, you can make your first deposit. When you're there you can enter the coupon code and claim the bonus!
4. Start playing!
You've got your bonus and the account ready. You can simply start playing!
Slots of Vegas Casino Games & Software
There is a small piece of factoid provided by Slots of Vegas in their 'games' section, where they bring the player's attention how their range of 130 latest online games in total means that the player can enjoy playing different games every day for a year up to a 3-time cycle, making it highly unlikely for the player to tire from the selection of games. Having said that, and I phrase this from the Slots of Vegas website, if one would rather stick to one game for an entire year, one is completely free to do so. Slots of Vegas constantly remain at the top of their game by adding a brand new game per month. This game could be a slot machine or an exciting variation to classic games. They carefully create their games and constantly strive for high quality in terms of great graphics, big bonuses, and rich themes, so a game a month will definitely keep the player on tenterhooks with excitement!
Slots
There are 84 slot games that transport the player to different worlds from fantastic and adventurous to cute and naughty. Throughout any game, the player can opt for real or pretend money to play with each time. If the player is overwhelmed – in a good way – by all these games (which can be understandable) they can head over to Slots of Vegas' blog and go through the great library of different game reviews to get a clearer idea of what kind of games are available to them.
Table Games
There are then 13 online table games, 14 video poker games (with live dealers!), and 5 specialty games.
Roulette, Baccarat, Blackjack, and Keno come in multiple variations at Slots of Vegas!

Scratch Cards
Apart from slots, table games, and the amazing video poker options, at Slots of Vegas, you can play scratch cards too! Have a shot at winning big!
Payment Options at Slots of Vegas Casino
Both making online casino deposits and withdrawing money are straightforward and secure. Once the player has registered in their details, the next step for them is to go on the 'cashier' button and they will see several options to choose the best one to make a deposit. The new customer is required to fill in a Credit Card Agreement Form in order to ensure a clean method of playing. Withdrawals cannot be processed until the Accounts Department has cleared the details in the Agreement, and are subject to withdrawal fees. Contact Customer Support and they'll clarify it all for you.
Slots of Vegas' Customer Support has a very understanding team in examining a cancellation case in case the player's card has been charged twice or charged without their authority. These things happen, and luckily their customer support is top-notch and allows a smooth process of problem-solving without too much tension rising. Multiple purchases can lead to a grouped purchase on the bank statement and may take days to charge. Everyone is welcome at Slots of Vegas! Canadian players can use Neteller to make fast payments and avoid any ugly fees and transaction delays so that they can play instantly! Slots of Vegas is also ahead of the game when it comes to cryptocurrency as it even accepts payment in bitcoin.
Non-negotiable Casino Features at Slots of Vegas
Certain casino features are a must-have. For example, who'd want to play at a casino that has no customer service or isn't fair? This is why we're here to discuss Slots of Vegas Casino's non-negotiable casino features. Let's quickly dive in!
Customer Support
Throughout the player's online casino experience there is a 24/7 live customer care service at their fingertips. Security is ensured as the live chat requires the player's Slots of Vegas login. Different categories are presented in short phrases for the player to select in no time and to make the exchange of help more efficient to get to the bottom of the problem instantly. One needn't leave customer support for moments when the account is having problems, as the live chat is also there to assist the player with any query that might arise. This is outlined by the many different 'assistance' categories found in the drop-down menu in the live chat window. If the problem can wait and needs to be elaborated, an email address will suffice, and then there are free phones for call centres and deposit centres.
Safety & Security
In our research, we haven't been able to find a working license for Slots of Casino. However, on its website the casino claims that they're fair, secure, and safe.
Also, we haven't discovered any complaints from the other players.
Mobile Casino
Slots of Vegas has been made to be easy to play comfortably on your mobile phone – be it an Android or an iPhone, and what's even more exciting is that you automatically get a free chip worth upon downloading the app and signing up! It's important to note that this bonus comes with no deposit however comes with a 30x wagering requirement (60x for Table Games and Video Poker), and a $100 minimum/maximum allowed withdrawal. The player can see it this way – whether they log in on their computer or on their phone, they will start with a pretty sweet deal. Heck, they could even benefit from two sweet deals, on both devices!
Our Verdict of Slots of Vegas Casino – More than a Real Time Gaming powered casino!
Slots of Vegas is more than just a real-time gaming-powered casino (although having said that we can easily just stop at that). It is a community – which is why it has a right to deem itself as an online version of Las Vegas itself. The community vibes are evident in their regularly updated in-site blog which publishes frequent articles that give the seasoned player a bigger insight into current happenings within global iGaming and educate the less experienced player. This insight gives the player the chance to view the world of gaming as great career potential and not just a leisurely act.
Slots of Vegas caters to any of the players' needs and gives the player the freedom to modify their gaming experience to their desired version – whether they want to play on their mobile phone, on downloaded software, or on a flash-supported website. The website's malleability of being a great gaming experience for all types of tastes definitely makes it a go-to portal for anyone wondering where to register their account next. All of these gaming features plus top-notch security and the latest RNG make Slots of Vegas a fair, secure, professional, and most importantly – fun gaming experience.