It's an all-out blockbuster experience with Miami Club Casino. With an airtight and fully licensed operation incorporated in Curacao and run by the Netherlands-based Deckmedia Ltd, Miami Club Casino uses the player-favorite and acclaimed WGS Software to power its generous stock of games and give players their full due. With a welcome bonus that will reel in even the most seasoned players and some inspired tournaments to keep them engaged, Miami Club Casino is a sleek operation that has gained the respect of users ever since it appeared on the scene. But if you're just fresh off the figurative plane on these virtual Miami shores, here's a few things to bear in mind before taking the plunge.
Getting Started with Miami Club Casino
In line with the stylish and easy-to-use design of its website, which is also available on mobile, Miami Club Casino is one gaming avenue that's sure to make you feel at home straight away. The deep blues (and, in fact, purples!) of the landing pages and the rest of the site will evoke the stylish and opulent atmosphere of the state that bears the casino's name. And sure enough, the Casino takes full advantage of this design win to allow players to plunge straight into the mix. To wit: creating an account with Miami Club Casino cuts straight to the chase – with the 'Instant Play' button leading new players to an account-creation page, where returning players simply have to key in their login info, and they're good to go. The casino will ask you all the standard information that's required from such a setup, such as your email address and location, and ask you to create a password. From there on in, you can sit back and enjoy the wide array of games that await you at Miami Club Casino…
Miami Club Casino Screenshots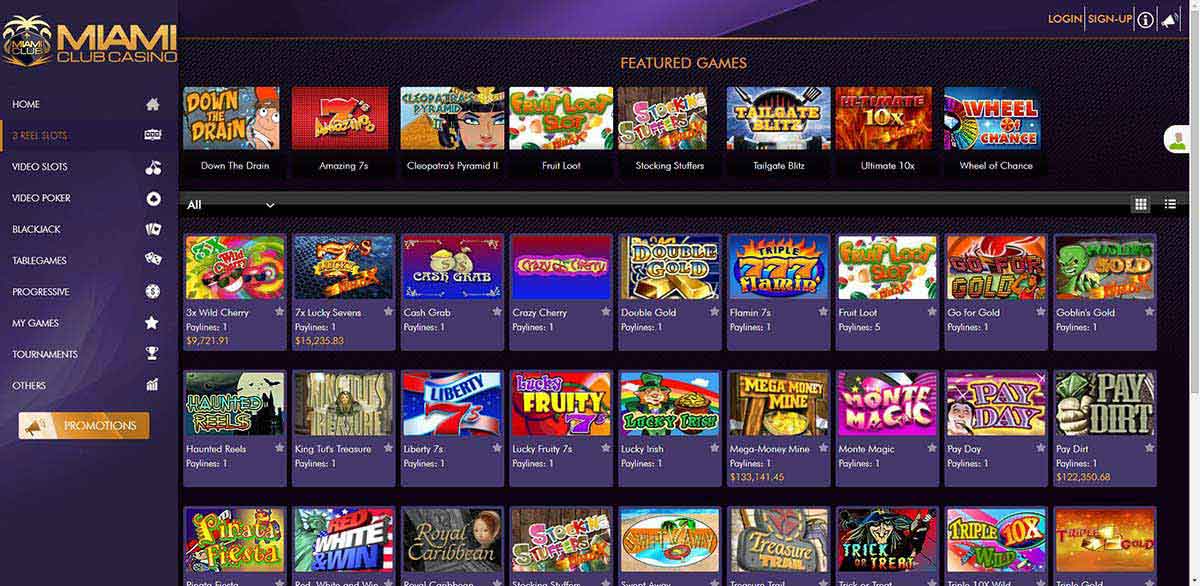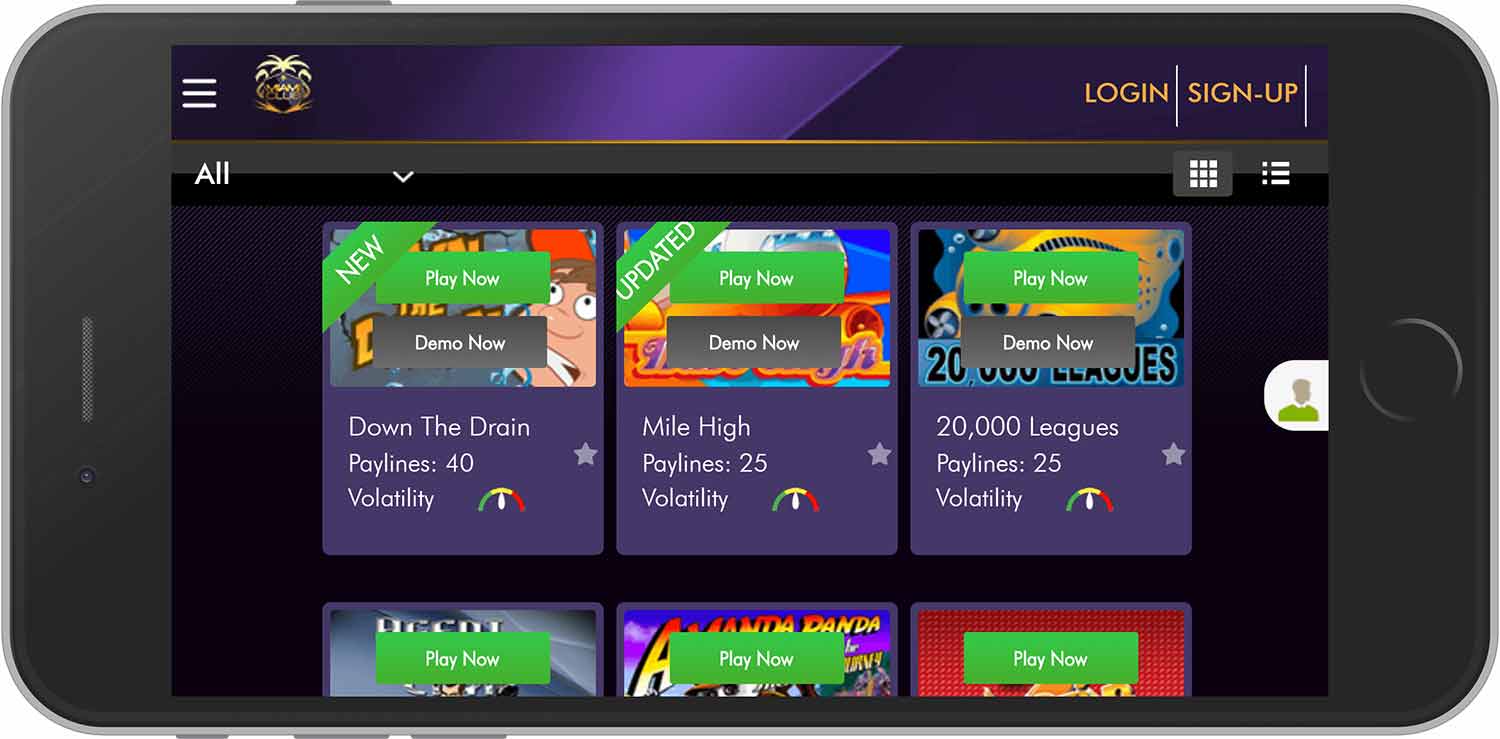 Miami Club Casino Welcome Bonus and Other Promotions
All casinos will want to impress their players with an attractive welcome bonus, and Miami Club Casino certainly does not skimp on that front. In fact, new players are invited to enjoy a great welcome bonus. This is precisely the kind of pull-factor that will make prospective players turn their heads away from the glittering array of other online casinos and consider entering the plush enclosure of Miami Club Casino. Certainly, the bonus is a shrewd move on the part of the casino, since it not only promises a big payout at the end, but incentivises players to keep playing. Taking such a long-view approach is one of the recipes for success for any casino, and the added benefit here is that the players can rest assured that their commitment will be repaid in kind.
Challenge Accepted: Miami Club Casino Tournaments
Another sign that Miami Club Casino are on the ball when it comes to the online casino game is its regularly rotating array of tournaments. With a set of inspired tournaments that changes daily, players can look forward to always getting something fresh from the Miami Club Casino experience. The tournaments allow players to go head-to-head with their counterparts worldwide in scheduled games that include the options of slots, video poker and Blackjack. The tournaments come with varying entry fees and final wins, so that all players are bound to find the setup that fits them best.
The way it works is that your entry fee lets you play in the tournament. Once you're in and the game has loaded up, be sure to notice the funds balance that appears at the left-hand corner of the game. The number of bets you are required to make will also be visible at that point – though as a rule, this would be just one at that stage. The moment you place your qualifying bet, you'll spot your ranking, the complete number of wagers you've placed up to that point and the duration of the tournament. When it's all over and the dust of the tournament has settled – hopefully, leaving your opponents in the dirt and you triumphant, lording over them in your Casino throne – and provided you qualify for a prize, this will be deposited into your account in minutes after the tournament is officially over. So it's no surprise as to why the tournaments have proven to be a popular draw for Miami Club Casino players, given how they generate fresh experiences for players while also allowing for the possibility of big wins in the long run.
High Flyers Rewarded: The Miami Club Casino VIP Experience
True to the high-flying prestige and aura of luxury that its name evokes, Miami Club Casino offers nothing short of a total of six – count them, six – VIP tiers, ensuring that the loyalty of its players is rewarded through and through. Among these are the following levels.
Flamingo
The Flamingo category runs against a minimum deposit of $25.00 credits, and players opting for this category are liable to receive extra bonuses and rewards every month as they continue to play.
Downtown
Players can become Downtown Members at Miami Club Casino upon earning 25,000 comp points, with a chance of receiving extra bonuses and rewards each month.
Bay Front
Players can become Bay Front Members at Miami Club Casino upon earning 100,000 comp points, with a chance of receiving extra bonuses and rewards each month.
South Beach
Players can become South Beach Members at Miami Club Casino upon earning 250,000 comp points, with a chance of receiving extra bonuses and rewards each month.
Ocean Drive
Players can become Ocean Drive Members at Miami Club Casino upon earning 500,000 comp points, with a chance of receiving extra bonuses and rewards each month.
Millionaire's Row
Players can become Ocean Drive Members at Miami Club Casino upon earning 1,000,000 comp points, with a chance of receiving extra bonuses and rewards each month.
Miami Club Casino Games
Miami Club Casino offers a more than decent selection of games, with perhaps the only downside being that live dealer casino is not a part of the casino's repertoire. But one edge that Miami Club Casino has is its association with WGS Technology software. Formerly known as both Odds on Technology and subsequently Vegas Technology, WGS has been on the block for over a decade, and supplied casino's with games of consistent high quality and popularity – in fact, even if you may not attach the games to the company name (which kept changing anyway!) you are likely to have played and enjoyed one of their games.
With over 150 titles to its name, Miami Club offers a wide range of slots and table games, and even specialty games like Dazzling Dice. The animation and design style of the games is pleasant enough, even if it perhaps lacks that super-sleek look we have all come to expect from giants like IGT or NET Entertainment. But the advantage of these slightly more lo-fi games is that they do not burden your machine of choice. This is especially pertinent as Miami Club Casino even allows players to download the games as well as being able to play them on the instant casino.
Making Deposits and Withdrawing Money at Miami Club Casino
True to its nature as a slick, exacting casino with a respectful nature towards its players, Miami Club offers a generous array of options when it comes to depositing and withdrawing funds.
| | |
| --- | --- |
| Currencies accepted | Dollars |
Customer Support at Miami Club Casino
Miami Club Casino certainly has its bases covered when it comes to customer support. Between telephone, email support and video chat being available 24/7, here is a casino that has invested in taking care of its players. And judging by some online reviews, it appears that they live up to their promise of providing support around the clock, and to players of every stripe.
| | |
| --- | --- |
| Telephone | Yes |
| Email support | Yes |
| Live chat | Yes |
Chat: 24/7 Live chat available
Phone: Phone is not available
Miami Club Casino Leaves an Impression!
With a welcoming bonus that's bound to turn a few heads and a wide, if not necessarily among the most polished, selection of games in its repertoire, Miami Club also has accessibility and security on its side, enjoying SSL encryption and offering up a wide range of customer support platforms. Coupled with its always-refreshed and always exciting roll-call of daily tournaments, Miami Club makes for a gaming space that hits that sweet spot of dynamic and secure.