It's hardly a surprise that Las Vegas is the inspiration behind the name and/or aesthetic of many online casinos. Considering its history and reputation, Las Vegas is the quintessential gambling city. Online gambling, though, is a testament to the fact that the famous 'What happens in Vegas, stays in Vegas' maxim is no longer true. Now, what happens in Vegas goes on the internet. Las Vegas USA, too, has quite the history to speak of. Launched in 1999 and with jurisdiction in Panama, this online casino has been going strong since the emergence of internet gambling in the 90s era.
An Overview of Las Vegas USA Casino
Unfortunately, Las Vegas USA Casino looks like it never left the 90s. The yellow-on-blue style of the website is quite the eyesore, but the biggest problem is that the overall look, font, and navigation of Las Vegas USA doesn't seem to have ever got a facelift or amendment to look a little bit more modern and sleek. To be honest, this shouldn't be a measurement of the quality of the casino, as aesthetics shouldn't really detract from more essential factors like gameplay, security, ease of use, and so on. For the most part, they don't. However, there are definitely moments when the more dated aspects of the casino become a bit of an annoyance. First of all, navigating through the game selection isn't as smooth as it is at many more modern casinos.
Furthermore, mobile users are sure to come across another point of irritation, as they need to send an email in order to claim bonuses, instead of it being a more automatic affair as it is on desktop. The implication here is not that Las Vegas USA is a bad casino by any stretch of the imagination! On the contrary, there are tons of rewarding aspects here you'll probably want to get your hands on. So without further ado, let's get into those aspects in much more depth in this Las Vegas USA Casino review!
Las Vegas USA Casino Screenshots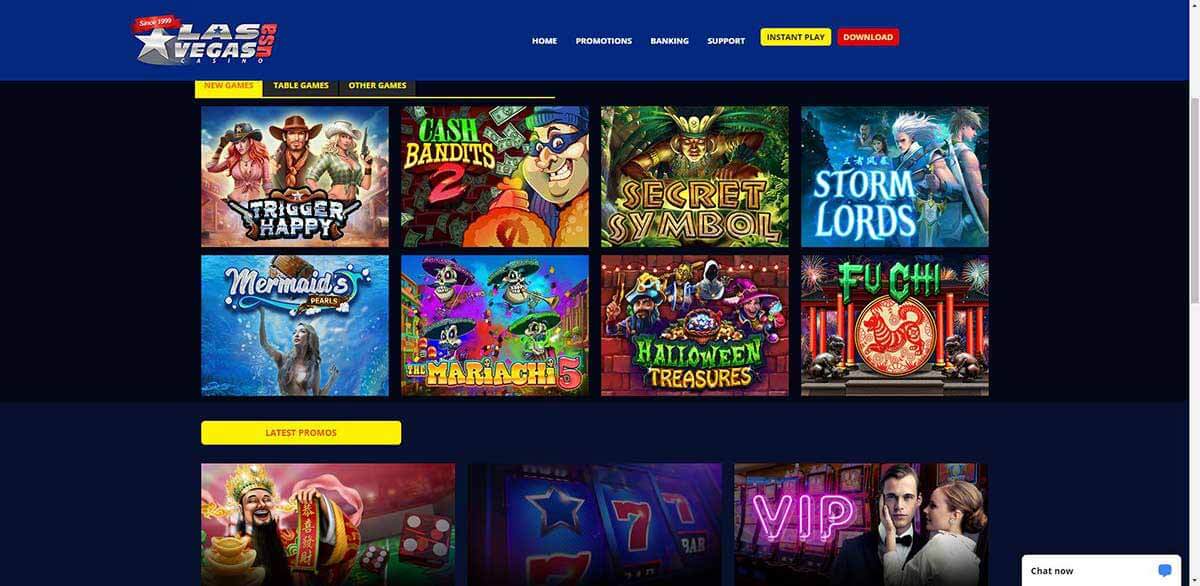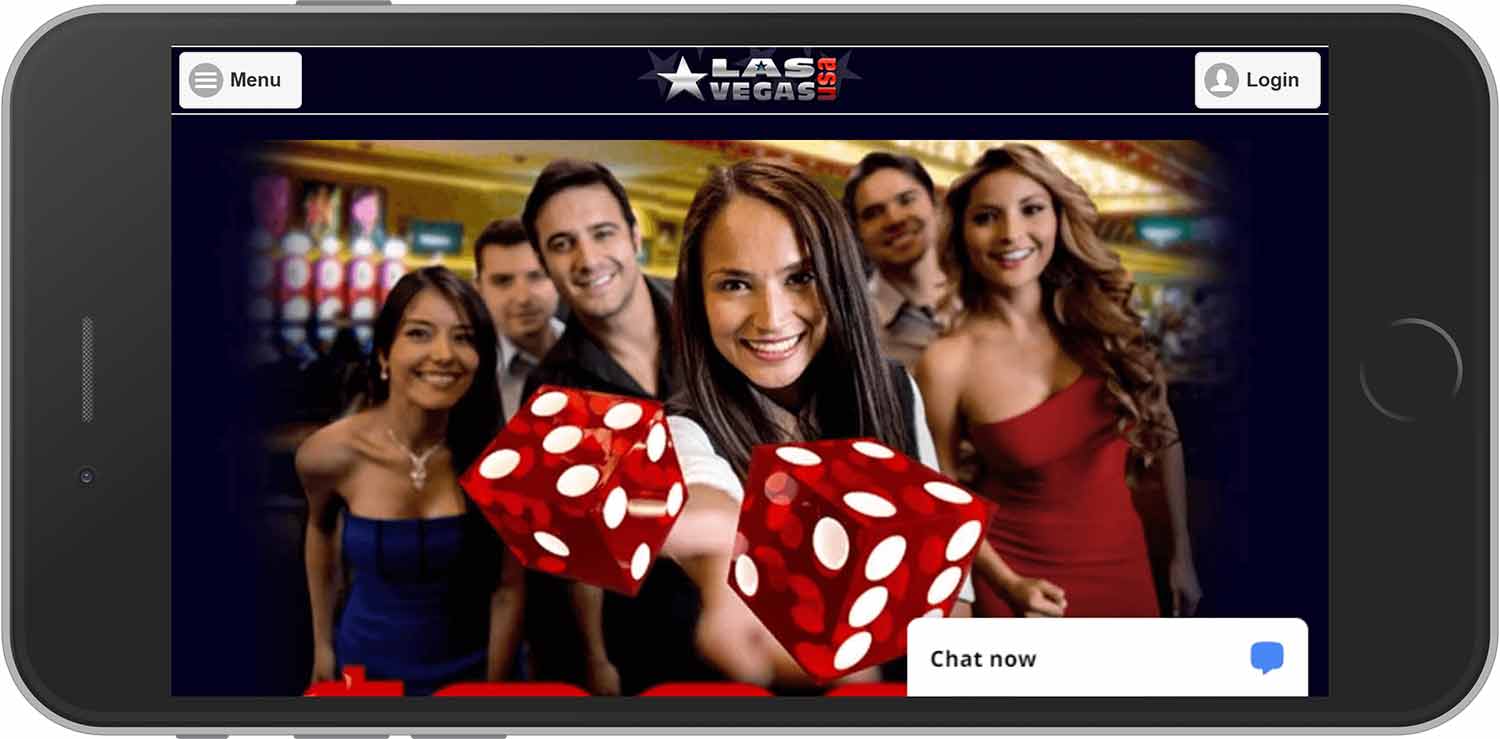 How do you get started at Las Vegas USA Casino?
There are advantages of playing at a 'Las Vegas USA' casino that's not actually in Las Vegas. Most of all, you don't need to buy a plane ticket to start gambling! Las Vegas gives you the option of either downloading the casino software or making use of instant play. Downloading is a straightforward affair, as is registering. You're only going to have trouble if you're from one of the countries that are exempted from playing at Las Vegas USA, namely Morocco, Bosnia and Herzegovina, the Netherlands, Malaysia, and Russia.
What bonuses can you expect at Las Vegas USA Casino Online?
True to the Las Vegas spirit of exorbitance and winning big, Las Vegas USA is all about bonuses. They're definitely the focal point of the casino, so anyone who is into online gambling with lots of perks will definitely be going to the right website here. Many of the bonuses we're about to discuss will require you to use special bonus coupon codes, which can only be used when making deposits of $20 or more. One other thing you will need to keep in mind when claiming bonuses is that the wagering requirements vary quite a lot at Las Vegas USA, not only according to the bonus itself but what you're using the bonus on. If you're a regular member and use your bonus on video poker, you may be obliged to wager your bonus up to 90 times to claim winnings made from it. If you're uncomfortable with this, you can email the casino to have your bonus funds removed.
Now, if there's one thing that seems to be quite clear, it's that Las Vegas USA appears to be targeting players who are very comfortable betting high amounts. So, in a sense, many of these bonuses will be approved by the high-rolling community of gamblers. Just to be sure, though, the casino also has a high-roller bonus setup. There are honestly so many bonuses available that it's a bit overwhelming, but not in an unpleasant way. Plus, if you're so floored by these bonuses that you want to sign friends up to get the same deals, you'll even get $20 refer-a-friend bonus.
Do the perks stop there? Surprisingly, no! Members who stick around at the casino will treat themselves to lots more, including a weekly promotion and a different bonus for every day of the week (that you'll be able to redeem a number of times depending on the bonus). We're particularly fond of the Cashback Monday bonus, which will see you getting some amount from your deposits back!
What are the games like at Las Vegas USA?
As you might expect from what has been said about Las Vegas USA so far, the games at this casino tend to have more of an old-school streak. You won't find too much in the way of flashy graphics and 3D animation. However, that's not a bad thing. Just as some players prefer old Nintendo consoles to PlayStation 4s, we're convinced that there's a market for players who like classic slot games over newer titles. Las Vegas USA has a selection of 250 games.
Some of you may be thinking that that number pales in comparison to most other casinos, and you'd be right. On the other hand, the quality of gaming shouldn't really be about quantity, should it? We're much more concerned with whether there's enough variety to please everyone in those 250 titles – and, unless you're a diehard 3D slots fan, there is! Before getting into the games themselves, we will say this: the games page at the casino is a bit perplexing. On one hand, the segregation between types of games is done really well.
When choosing slot games, for example, you can choose whether you want to pay at 6-reel, 5-reel, 3-reel, progressive slots, and so on. On the other hand, navigating through the games themselves in-browser is quite a chore, as they're not conventionally listed in a way that allows you to see multiple titles at once. Yet, shifting through those games is worth it. Why? Because they have an average of 98.70%. Need we say more? It's common for casinos to have payouts in the high 90s percentile, but Las Vegas USA has gone that little step further!
As for the games themselves, there's a nice balance of table games and slots, with a small number of specialty games like Keno and Treasure Tree thrown in for good measure. The slots are quite fun if a little samey. We reckon that the type of people who will enjoy playing at the casino the most are those who want really solid representations of more classic games with more no-frill substance than flash, though.
What are the payment options available at Las Vegas USA Casino?
Making deposits and withdrawals at Las Vegas USA is a pretty standard affair. You'll find that different payment methods have different minimum deposit amounts, although you will have to deposit at least $20 to be eligible to use bonus codes. Plus, some will require to make even larger deposits than that. Using Money Order, for example, will require you to deposit at least $50. Similarly, making withdrawals with Courier would require you to withdraw no less than $400, although Neteller will allow you to withdraw as little as $10. There's a huge plus with Las Vegas USA with regard to its payment options which is that none of them come with additional casino fees. On the downside, though, you won't necessarily be able to make cash outs using the same method you use to make deposits.
You might need to be a bit patient when making cashouts, as they can take up to two weeks to be fully processed. You might also be asked to provide documentation regarding your identity and the authenticity of the credit card used if the casino deems this necessary. Something you'll need to keep in mind is that the maximum withdrawal amount that you'll be able to make per week is $5000, and that's only if you're a platinum or diamond member. You'll still be able to make larger payouts, but they will be given over in installments.
What is customer care like at Las Vegas USA?
Las Vegas USA's Customer Care service is commendable. It operates 24/7, so you'll be able to have any issues or queries sorted whether you're playing at the earliest hours of the day or the latest hours at night. On the downside, the support team does not have an available telephone number, which is perhaps problematic if you prefer communicating vocally in such situations. However, we wouldn't worry too much about this, as you do have the option to make use of the casino's email address, [email protected], or instead make use of the live chat function for more immediate matters.
Contact information:
E-mail: [email protected]
Chat: 24/7 Live chat available
Phone: Phone is not available
Las Vegas Casino USA Mobile Review
Las Vegas USA is aware enough of the current market enough to have a mobile app. Does the app (which you can access simply through the internet browser on your phone) match the standards of a modern mobile app experience? Right from the get-go, the homepage is hosting some blurry text, which makes us certain that the old-school feel isn't going to be escaped on mobile, either. Still, an open mind is needed here. Read on to find out if Las Vegas USA's mobile casino really is Vegas in a portable form.
Creating an account with Las Vegas Casino USA Mobile
When it comes to making an account for the mobile version of the casino, we have good and bad news. The good news is that registering is a simple process, and very much in line with what you'd expect on any efficient mobile casino. There's a three-tab process in which you input all the necessary details. Then, you're good to go. The bad news is that making an account is kind of necessary if you want to access the mobile casino lobby at all. You can't see what games are available to play unless you're logged in. We think this is a big problem because people do have the right to know what games are on offer and even test them out in free-play mode if they want to arrive at the best decision for them. Sure, there is one solution, and that is to check out the lobby on the desktop version of the site. On your PC you can even access the mobile version of the lobby without being logged in, which really seems like the priorities are a little mixed here. It might not bother anyone who spends time gambling on the PC too, but for those who are exclusively mobile users, we think this might be a bit of an inconvenience.
Casino Promotions at Casino Las Vegas USA Mobile
The promotions don't stop with the welcome package at Las Vegas USA. In fact, there are so many ongoing promotions that it might seem overwhelming to keep up with them all. Some of these promotions are seasonal or one-time affairs, but others are consistently available. There's also a wide variety of bonuses to get your hands on, including match, double-match, reload refer-a-friend bonuses, and more. Plus, even though we said that Las Vegas USA seems to be set on attracting high rollers, you can deposit a very reasonable minimum of $20 for these bonuses.
Casino Las Vegas USA Mobile Games
We don't imagine you'll be surprised when we tell you that Las Vegas USA is not really the casino you'll want to sign up with for modern, 3D animation games. The games here are all pretty old-school and simple. Is that a negative quality of the lobby? That depends. If you're really after flash, then you won't find it here. However, the main advantage of these no-frills, 2D games is that the payouts tend to be slightly higher than the newer offerings.
The fact that Las Vegas USA has an average payout percentage of 98.7% is proof of this. That's definitely something to consider. Plus, just because the games are more bare-bones than what you might find at most casinos, this does not mean that they're completely void of features. You'll still find your fair share of multipliers and wild symbols. As for quantity, the selection isn't too huge. The desktop version of the casino holds over 250 games, while the mobile version has considerably fewer. That wouldn't be bad if it meant that quality was the order of the day – but is it?
Payment methods at Las Vegas USA Mobile
Some apps let you make deposits and withdrawals directly on your mobile, but this isn't quite the case with Las Vegas USA – you're asked to refer to customer support for help which gives a strong indication that any deposits you make will have to be done through your PC. This is substantiated by the fact that there's not that much information about banking on the app itself. You do get information on what methods you can use to deposit and withdraw, of course. We were hoping that they would match up but they do not, for the most part. This is a common aspect of online casinos, but it doesn't make having to use separate methods any less inconvenient.
Our Verdict – Should you sign up with Las Vegas USA Casino?
As always, we think it's essential that you check out a casino yourself before deciding whether it's adequate for your needs or not. We think that there are plenty of redeeming features that would make signing up with this casino worth it. Specifically, if you're a high roller, there is little doubt that you would benefit from the numerous bonus offers available. Arguably, more casual players will find the relatively high wagering requirements cumbersome, but because these requirements decrease as you go up the VIP ladder, big betters should do very well. Big bonuses aside, we will admit that we did not quite fall in love with Las Vegas USA.
A casino running since 1999 is certainly nothing to scoff at, but we're disappointed that the casino still feels like it's stuck in that year. The design is dated, and the game selection doesn't exactly compete with what many more modern casinos are offering. We're loath to say the casino is a bad one, though, because it clearly is not. We just wish that Las Vegas USA would take a nice long look at a calendar, and update itself accordingly. Get a more attractive design, expand its game selection, make the navigation a bit more user-friendly, and expand on other features like payment options. Even the obviously newer mobile version of the site simply doesn't cut it! Don't let our opinion discourage you if you're more of an old-school gambler though. Perhaps you're into less flashy graphics and such. If that's the case, Las Vegas USA might be perfect for you!