Whether you're looking for a review of MyJackpot.com or of Jackpot.de, our Jackpot social casino review looks at how these two social casinos are one and the same. No matter which one you choose to play at, you will find it to be a safe and fun environment to try your hand at some great slots and a small number of table and dice games.
Jackpot Social Casino Overview
In our Jackpot social casino review, we look at two sides of the same coin, namely MyJackpot.com and Jackpot.de. These two casinos are quite literally the same, with the main difference being that the latter is available exclusively in German, while the former comes in 15 languages. These include English, Spanish, French, Italian, Polish, Portuguese, Romanian, Danish, and Swedish. Established in 2015, both social casinos are operated by Whow Games GmbH, which is based in Hamburg, Germany, and have the same aim: to bring the Las Vegas lifestyle straight to your computer or mobile device.
What sets these casinos apart, however, is that they are social casinos, meaning that you can play for free and that any winnings are not redeemable for real money. Instead, the casinos give you the opportunity to earn loyalty points, which then unlock more VIP games and better perks. Given that these brands are social casinos, they do not require a license from any jurisdiction. Moreover, they are also legal and available to players in a lot more countries than their real-money counterparts. In fact, you can play at MyJackpot.com and Jackpot.de from Europe, the UK, the USA, South American countries, and numerous Asian and African nations. The one major country which is omitted from this list is China, where players are blocked from accessing either of the sites.
Having said all this, both social casinos give players the chance to advance in their gameplay by buying chips and Jokers. To pay for these, both casinos have a wide list of payment methods that put those of real-money casinos to shame. These include cards, eWallets, cryptocurrencies, and bank transfers, among others. Finally, the casino is big on security and treats your data with the utmost confidence. Adding to this, it makes seeking help super easy thanks to a thorough FAQ section and lives chat available most hours of the day. All this makes these two social casinos great at what they do and gives you the opportunity to enjoy the over 300 games available with complete peace of mind both at home and while you're on the go thanks to their fabulous and beautiful app available for both Apple and Android mobile devices.
Jackpot Social Casino Screenshots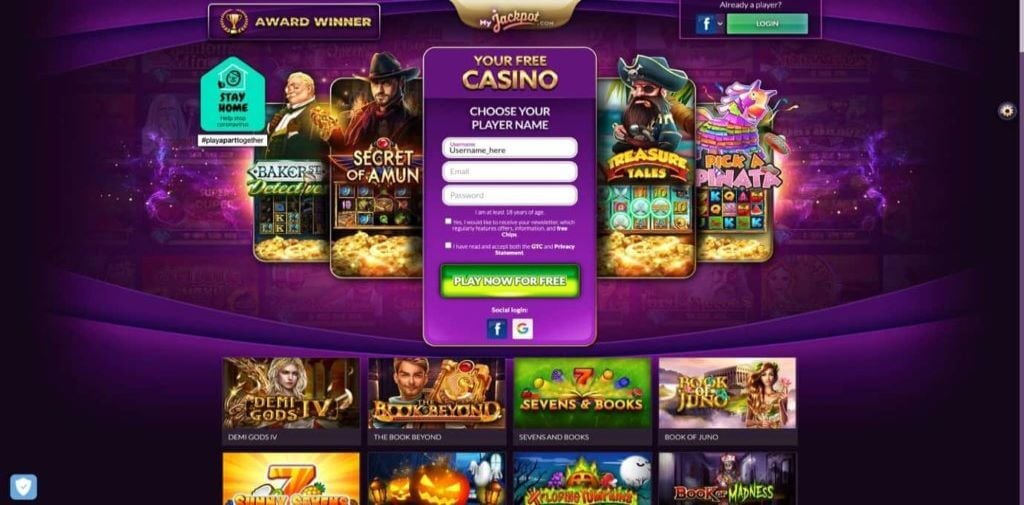 Jackpot Social Casino Pros & Cons
Pros
Free-to-play option
300 games to choose from
Available in multiple languages
Cons
Customer support not 24/7
Jackpot Casino Bonuses
Since Jackpot is a social casino, there are no traditional bonuses per se. What you do get is the opportunity to earn loyalty points, as well as to buy chips and jokers (which you can use on the games available).
Welcome Bonus Offer
Upon joining, you will be eligible for a number of special introductory offers, which give you the opportunity to buy a huge amount of chips for a massively reduced price. Some of these bonuses packages also include jokers and loyalty points. These loyalty points can then be used to unlock exclusive games and offers, so it pays to have them up your sleeve!
Daily Free Chips
Existing and new customers can then collect 100 free chips on a daily basis. These need to be claimed by heading to the virtual shop, which can be accessed by clicking the green 'Buy' button at the top of the page. They are usually the last option on the horizontally-scrollable list.
Reload Bonus
Players are also welcome to buy chips and jokers whenever they desire. Also available from the virtual shop section, you can find packages made up from 4,500,000 chips for just a couple of pounds/euro/dollars, all the way to 1 billion chips for a couple of hundreds. Regular offers can be accessed here, too.
How to Sign Up to the Casino
Signing up to MyJackpot.com or Jackpot.de is incredibly easy, but it can prove slightly confusing to those who are acquainted with the layout traditional casinos usually go for. Even so, once you notice it, it's literally a two-step process that takes just 30 seconds. Here's how to do it.
1. Find the registration page
On the homepage, you will find the registration box in the middle of the screen, just under the large, golden 'Your Free Casino' legend. This is unlike most other casinos, where the register button is usually on the top right-hand corner of the page.
2. Choose your username
You'll need to begin by entering your username in the flashing box and pressing 'Enter' on your keyboard.
3. Fill in the information and confirm
This will increase the size of the box to include two further fields, one for your email address and one for your preferred password. On this page, there are also two boxes for you to tick. The first is to allow the casino to send you promotional material and free chips. This can be left unticked, though if you're planning on playing frequently the free chips surely come in handy. The second box is for you to confirm that you have read and accepted the terms and conditions. This cannot be left unticked and even though it is free, we still recommend reading them. It's also important to note that by clicking the two-toned green 'Play now for free' button, you will be confirming that you are at least 18 years of age at the time of registration.
4. Sign in through Google or Facebook
Instead of inputting your details, you could also sign in using your Facebook or Google account. By doing so, the casino will get the information it requires (such as age and so on) directly from the profile. This is certainly quicker.
Games & Software
While MyJackpot.com / Jackpot.de is a social casino, which means that you are not playing for real money, the casino does have a decent selection of over 300 games by some pretty well-renowned developers. Below we take a closer look at what you can play at these two great social casinos.
Incredible Slot Selection
By far the largest section of games on the social casino, the video slot section is well worth checking out. The games are split into different categories and include player favorites, exclusive titles, slots with jackpots, and of course a section for all titles. The majority of these video slots are themed, with adventure, branded and history slots all available. The software used here is great, too, and while you will not be playing for real money, you can still play games by some game developers that create real-money slots, like NetEnt, Gomamat, and Spinomenal.
Table Games
On top of the above, the only other types of games we were able to locate were European Roulette and Rocket Dice. The graphics here are good, and the games are a whole load of fun: they're fast-paced, interactive and enjoyable.
Jackpot Social Casino Payment
As a social casino, MyJackpot.com / Jackpot.de does not require you to provide any credit card or banking details to play the vast majority of its games. Nevertheless, if you are looking to buy chips or jokers, then you will need to make a payment to the site. In this case, you'll be quite happy to know that the site and the app offer a wide variety of payment methods. These include
– credit cards like Visa and Mastercard;
– a number of eWallets, namely PayPal, Skrill and Neteller;
– digital wallets like AmazonPay and Boku;
– the Paysafecard;
– online bank transfer through Rapid Transfer;
– and even accepts cryptocurrencies like Bitcoin and Ethereum.
Having said this, there are two specific payment methods that pay you more if you use them. Indeed, when paying via PayPal or cryptocurrencies, which require you to have a cryptocurrency wallet, you'll receive 10% extra chips over and above what you've purchased! On a final note, both social casinos accept US dollar, euro, Great British pound and a variety of cryptocurrencies, thus making it super easy even for American players to take part in the fun.
Non-Negotiable Casino Features
Customer Support
Having someone to speak to is important, especially if you get locked out of your account or if the chips or jokers you purchased have not been credited to your account. Thankfully, Jackpot social casino is geared up for this and offers you two main ways in which you can seek answers to your most pressing questions. Both of these methods have to be accessed from the speech bubble button at the top right-hand corner of the page (it has a question mark on it). By pressing this, you will open a pop-up window that can then direct you to the Help section or to the support section. It also shows you your unique MyJackpot.com or Jackpot.de userID, which you may be asked for during your correspondence.
The Help section here is quite vast and features 31 frequently asked questions that range from 'Why can't I load the slots?' to 'What is Level Turbo?' The great thing about this section is that all the answers are in simple, plain English without too much technical information. If you can't find your answer there, however, you can go to Support, which opens up a pop-up chat window on the bottom right-hand side of the page. This live support is available from 9am to 9pm (GMT or BST) between Monday and Friday, or from 10am to 8pm on Saturdays, Sundays and public holidays.
Safety & Security
Although social casinos are not somewhere where you spend shedloads of money, it is still important that they are safe, particularly if you are using your social media profiles to sign up. At Jackpot social casino, safety seems to be taken pretty seriously. It starts from the standard yet all-important SSL-encryption, which is confirmed by the tiny lock appearing next to the URL. This means that any data transferred between your computer or mobile device and the social casino, as well as vice versa, is safe from prying eyes. The casino also lays bare its privacy policy (it has to, mind you) and explains the data you share with it is used for web analytics. It also makes it easy for you to object to this through a handy link. Moreover, even though the casino is a social one, a player still has to be 18 years of age in order to play.
Mobile Casino
As part of our Jackpot social casino review, we looked at how the site fares on mobile. Well, you'll be happy to know that the casino actually has a dedicated app that can be downloaded directly from the App Store on the iPhone and iPad, or from the Google Play Store on Android. The app takes a few seconds to load, but is then incredibly fast. It has wonderful graphics, fun and immersive sounds, and all the games available on the main site. What's even better is that players don't need to register to play the basic games for free on their phones. All in all, we are extremely happy with the performance of the Jackpot app, and would certainly recommend checking it out.
Our Verdict: Free, fun and fabulous!
If you're looking for a casino that can keep you entertained for hours without spending bucketloads of cash, then this is totally for you. You can play for absolutely free, or spend just a few pounds, dollars, or euros to extend your gaming time to many, many hours. The site itself is fun and, if we had to really nitpick, our only complaint is that there aren't more games available. Even so, it's a great social casino and well worth checking out!
| | | | | |
| --- | --- | --- | --- | --- |
| | | | Sign-Up | UK 18+ | Play Responsibly | T&C Apply |