When you factor in that Cyber Bingo came into existence in 1996, you realize that the name is super apt. Back then the idea that bingo could be played online still had some level of newness and Cyber Bingo's name is a grand declaration of the innovation at the time. That declaration seems to have been recognized around the world, as Cyber Bingo has won plenty of awards throughout the years, including plenty for 'Best Online Bingo site'.
Thankfully, Cyber Bingo has had the good sense to reinvent itself as the years went by. You might not initially realize this upon looking at the slightly tacky logo and cute but slightly corny bear mascot, but we must admit that Cyber Bingo is definitely what we'd call modernised and updated. The website has been optimized to work on all devices, for example. Cyber Bingo is also powered by Vista Gaming. We were pleasantly surprised to also find that Cyber Bingo is not just a bingo website.
We're completely fine with websites that do just stick to the Bingo side of the gambling spectrum – that's their niche and we respect it. Variety is always welcome though, and it's especially welcome here because what we're dealing it is slightly unique: a fleshed-out casino coming from the perspective of a bingo site, as opposed to a regular online casino that may not even have any bingo options at all. Do the slots and table games options here fail to impress, or do they strike a chord? You'll find out in this Cyber Bingo review, along with our impressions of the casino in general.
Cyber Casino Screenshots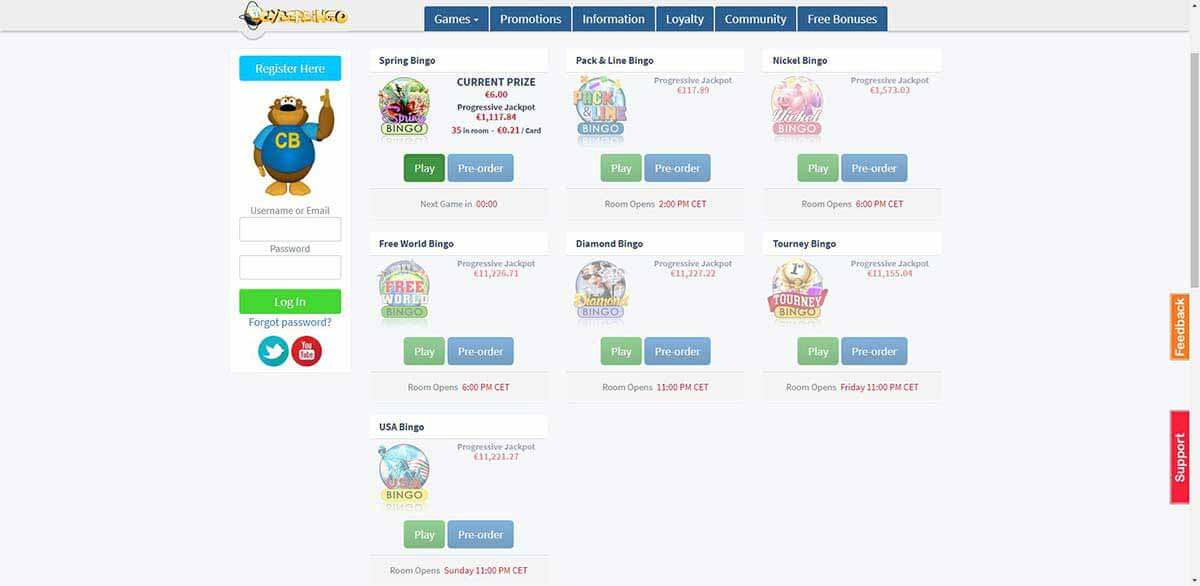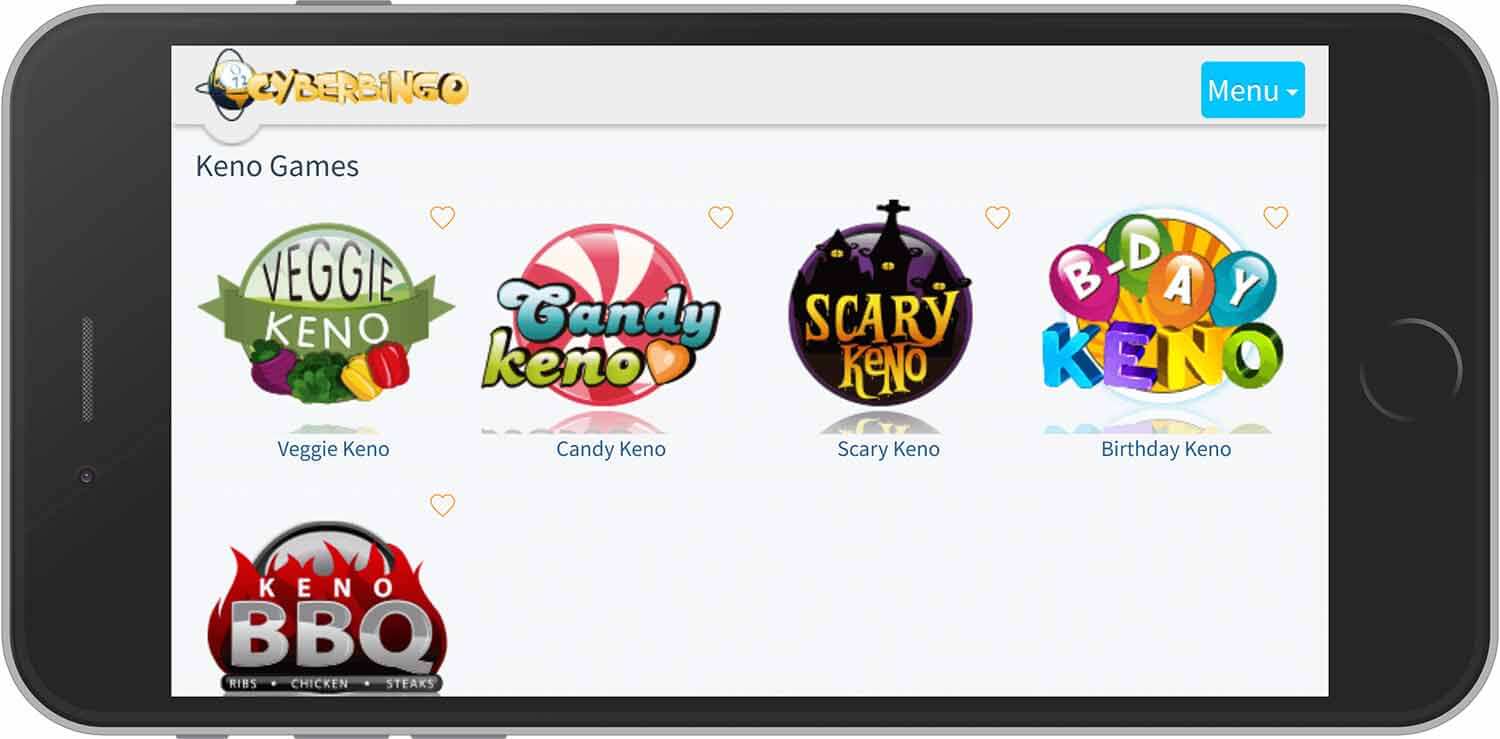 A seamless registration process at Cyber Bingo
It's very rare that we complain that signing up with an online casino is difficult – and thankfully Cyber Bingos registration process is just as seamless as most of the other online gambling entities out there. All you need to do is hit register, fill in a few details, and you're good to start playing. You even have the option of stating whether you were referred to Cyber Bingo by a friend, which would activate the refer-a-friend bonus. There are a few restrictions we're slightly on the fence about – only one account per household is allowed. Now, we completely get why Cyber Bingo would take measures to prevent people from taking advantage of bonuses and all of that, yet the website clearly states that no exceptions are allowed. Really? What if two people in the same household genuinely both want to play at Cyber Bingo without sharing an account? Couldn't Cyber Bingo grant exceptions if sufficient proof is provided?
Plenty of generous offers and bonuses at Cyber Bingo
The welcome bonus is generous – perhaps exceptionally generous for a bingo website (at the risk of stereotyping or generalising bingo websites). There are two parts to the welcome package. One is a sum of money you get to wager just for signing up, and the rest of it comes in the form of three-match bonuses over your first three deposits, which a total percentage rate that is well beyond what you'd really expect to find at a bingo website. Now that's not a criticism of bingo bonuses on our part – the fact of the matter is that usually less money is spent per game on bingo sites and bonuses tend to reflect this. So bingo bonuses are normally apt, but Cyber Bingo takes it to a very high level. Perhaps this is a way of acknowledging that the money that will be deposited will also be used on slots and table games.
As for other promotions that are offered at Cyber Bingo, we definitely can't knock the quantity here. There's a pretty vast amount, and while a few are 'permanent' bonuses that are offered weekly, many are designed in accordance with specific holidays. That's a really neat aspect of Cyber Bingo and it definitely keeps things interesting. The only downside (and it's not really a downside so much as it is a preference thing) is that most of the promotions here are competition based.
If you're interested in deposit-based bonuses and similar schemes, you might not be too interested in what's on offer here. The competitions here are still very well thought out for what they are and give you the chance to win anything including real-life prizes, like cruises. There are a few non-competition based bonuses, such as the buddy bonus (refer-a-friend) and birthday gift promotion.
Earn loyalty points for every deposit you make at Cyber Bingo
Cyber Bingo has one policy that we really like, which is that all members are considered to be VIP. Now while that make any high-roller looking for exclusive treatment groan, for everyone else it means a universal loyalty scheme that works rather well. Members get loyalty points for every single euro deposited. They can then redeem these points for cash prizes or real cash draws that occur daily, weekly, and monthly (with the monthly prize draw naturally being the highest).
Bingo games and more on Cyber Bingo Casino
As we wrote above, Cyber Bingo is not a bingo-exclusive website. There are slots, table games, video poker, keno, and so on. How are we going to judge the games, though? This is a bit like going to a pizza restaurant. Many people will say that if you order a plate of pasta and wind up disappointed, it's your own fault for not sticking to the pizza portion of the menu, which is where the restaurant excels. We don't subscribe to that idea. If a pizza restaurant serves pasta, it had better be damn good pasta. Why would you serve anything that doesn't meet the standards of your operation? Now, that being said, we don't expect a huge quantity of slots and other types of games at a Bingo website, although the selection here is far vaster than we expected.
If you have slots on the brain, we can't recommend Cyber Bingo as a go-to choice. The question we're trying to answer is whether the rest of the casino accompanies the Bingo portion well. Let's get to the bingo portion first, though. The variety here is really good, and there are different bingo rooms available ranging from Spring Bingo, Pack & Line Bingo, Free World Bingo, Diamond Bingo, Tourney Bingo.
Lots of options are allowed when it comes to purchasing cards, and these can be as low as €0.03. You have the choice of only buying a single card when playing, but at those prices, you'd really have to be a miser to not treat yourself to a few more games, especially since you can buy up to 120 tickets/cards at once. It's also really great to know that Cyber Bingo have thought of all the possible undesirable scenarios, such as the internet timing out as you play. In such scenarios, your cards will keep being played and you can still win and claim your prize When it comes to Keno and scratch cards, there are definitely a good number of options, but we must say that we're most impressed with the slots selection here. Though there aren't hundreds of titles here, there's a commendable amount and they are very neatly divided by type. There's everything here from classic-style slots like Lucky 7s, Wild Cherry and Double Spin to super high-definition 3D slots like A Christmas Carol, Pinocchio, and Dr Jekyll & Mr Hyde.
The slots games are also divided by reel type and there are different options depending on whether you want 3-reel, 5-reel, and 7-reel slots. In other words, the slots options here are legit. Cyber Bingo is just offering slots games for the casual slots fan. It's offering a wide variety of slots games for people with different preferences despite bingo being the focus. That's very respectable to us. The selection is not huge when it comes to table games and video poker, but the quality is still as high as you'll find throughout. One thing that is necessary to mention is that people can't try out games before signing up. Usually, this would be a peeve, but it's a bit more forgivable on bingo-based websites as the casino really needs to regulate who is playing at the bingo rooms.
A mixed bag of banking options at Cyber Bingo
There's a lot to be said about making deposits and withdrawals at Cyber Bingo, some of it good and some of it quite perplexing (more on that later). Let's start with the good. The minimum allowed deposit rate is a mere €10 which is great for casual players, or any player really. As we said, bingo games are affordable and it's great that you're not forced to deposit too much money, as €10 still allows you to play lots of games. There's no maximum you can deposit unless you're a new member, in which case you're capped at €60 per day. The banking options are pretty vast and it's unlikely that you'll have trouble here.
Banking methods include VISA/Mastercard, Switch, Solo, Skrill/Moneybookers, Neteller, Ukash, and Bank Transfers. In other words, these are methods that are already used in thousands of other contexts and it's unlikely that you don't use at least one of them. Withdrawal speed is quite good, and though it's not instant, you only need to wait two full business days for your payout to be processed. Furthermore, there's no cap on how big an amount you can withdraw, as long as it doesn't exceed your balance.
So what is it about Cyber Bingo's payment schemes that we disliked so much? If you make a withdrawal of a sum of money that is at least €1500, you need to accompany your picture and a quote. If you make a payout exceeding €3000, you also need to submit valid photo identification. Sounds harmless, right? Technically, it is – but what is happening here is that Cyber Bingo is forcing you to accept the possibility that you might be used for advertising purposes.
What you are essentially being told is that your money will be held from you unless you agree to provide a quote that can be used publicly. Now, if you're fine with that, there are no problems. What if you decided you don't really like the casino, though, or simply don't want your name and face to be used? We don't think anyone should be forced to provide testimonials unless they want to.
24/7 live chat and other support options at Cyber Bingo
Customer support is really up to the standard that you'd expect at any respectable gambling site. You get a live chat option that runs 24/7, and a few email address options to contact when in need, which we're listing here:
● General inquiries: [email protected]
● Chat related inquiries: [email protected]
● Withdrawal related issues: [email protected]
Cyber Bingo also has a really comprehensive FAQ page that you might want to check out first for any small queries, and this also has an abundance of information of how to help yourself if you feel like you're suffering from a gambling addiction, and so there are even options here to self-regulate your use at the casino. This is great because it shows that Cyber Bingo is geared to help its members at all levels.
E-mail: [email protected]
Chat: 24/7 Live chat available
Phone: Phone is not available
More than just Bingo!
If you're interested in exploring the world of online bingo, but want to retain access to slots games and other casino options, there's no doubt in our minds that Cyber Bingo could be the casino for you. There's so much to recommend here, from the seriously great games selection to the comprehensive customer support service, to the great welcome bonus package, and more. Not all of it is peaches and cream.
The bonuses are a bit one-dimensional and might not be everyone's cup of tea (although there is technically nothing wrong with them) and we're still cringing at the thought of having to provide a quotation for advertising purposes in order to make large withdrawals – that really should be an optional thing. Every casino has flaws, though, and the ones we've mentioned here are not exactly deal-breakers. We couldn't tell you if Cyber Bingo has been doing things right since 1996. It's definitely doing things right now, though, and that's all that matters.
| | | | | |
| --- | --- | --- | --- | --- |
| | Get 500% Match Bonus up to $/€ 1,500 on Your First Deposit | | Sign-Up | UK 18+ | Play Responsibly | T&C Apply |