Austria is famous for its rich culture, musicians, and monotonous landscape. Yet, apart from all these things, the European country is also quite famous for its Austrian Casinos. The casinos found in this country are well-known for their glamorous atmosphere and hospitality. Many of them offer many of the same casino games you'd typically find online. Among the table games that are typically on offer are the likes of Roulette, Blackjack, Baccarat, and Poker. Austrian Casinos also have casino games like Slots, Video Poker, and Progressive Jackpots too.
Our Top Two Land-Based Austrian Casinos
Altogether there are about 12 Austrian casinos present in the German-speaking country that's found in the central part of Europe. All the casinos present in this country are run by the company 'Casino Austria'. The company is the holder of an exclusive license that operates casinos in Austria. Although admission to these casinos is free, patrons must always meet the minimum age requirement (18) present their ID to enter, and abide by the semi-formal dress code that these casinos have imposed. Have a look below at some 2 of the land-based casinos that have caught our eye!
1. Innsbruck Casino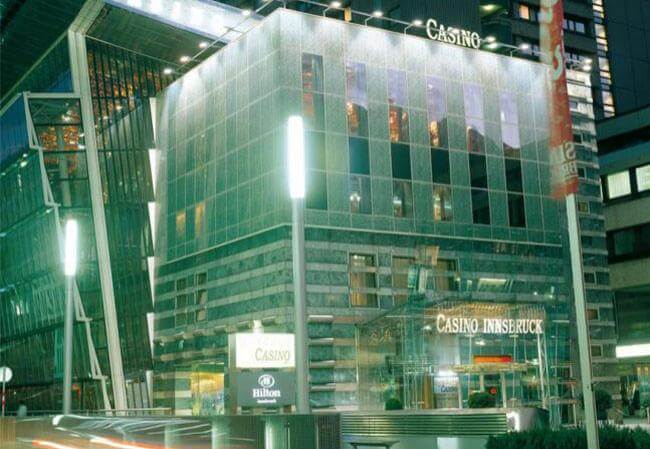 The beautiful city of Innsbruck is situated in the Tyrolean Alps and is the capital of Tyrol. Just a quick look at the impressive peaks and slopes of the Karwendel and the Alpine central chain will give you a hint of what beautiful nature has to offer. The city's location makes it a popular winter sports area and it is a very trendy tourist destination during winter. However, Innsbruck has something to offer all year round. For us at CasinoTop10, the main attraction is Innsbruck Casino.
The Modern Yet Chic Casino Innsbruck
The casino in Innsbruck which was opened in 1992 is the newest in Austria. And even if it's not housed in one of the many old buildings in Innsbruck it certainly has its own charm. Actually, the casino building in itself is a modern piece of art. Whilst some residents of the city find that the building complements Innsbruck's landscape profoundly, others view its post-modern architecture as an eye-sore.
However, as you can see in the picture, the large glass facade reflects the Northern Range Mountains of Innsbruck, a visual effect that combines modern architecture with its spectacular natural surroundings. Natural and local building material as granite, copper, and wood have been combined with some impressive lighting effects that add to the visual impression of the casino building.
Casino Games Available at Innsbruck Casino
As one of the several Austrian Casinos present in the country, the factor that makes Innsbruck Casino stick out is its modern environment and array of casino games available. Inside you will find seven classic American Roulette online tables, French Roulette tables, four Blackjack tables, two 'easy hold'em' poker tables, two stud poker tables, one Punto Banco table, and six poker tables.
Over the last couple of years, the casino of Innsbruck has profiled itself in conducting high-stakes poker tournaments. So, if you want to catch some of Europe's top poker players in action, check out the schedule for the major tournaments on the casino homepage. If you're looking for that big break, the casino's progressive jackpot is connected to 88 Slot machines, a Roulette machine, and a Blackjack table.
Special Events at Innsbruck Casino
Wednesday is Lady's Day at Casino Innsbruck. All ladies will be served a welcome drink and there are many special prizes to be won.
If you want a little special treatment, Innsbruck's "Dinner & Casino" gourmet package should suit you perfectly. Here you get a (57 Euros worth) glass of champagne, an exclusive four-course gala dinner, a 25 Euro bankroll to gamble with, and four chances of winning 7777 Euros worth of gold.
Dress Code
As always, you have to put some thought into what you're wearing when you visit a casino. The Ladies can go with just about any dress or outfit, as long as it is still appropriate. Men must wear at least a sports jacket at all times – unless they're heading for the Jackpot area, where more casual clothing is accepted.
Address
Casino Innsbruck
Salurner Strasse 15
6020 Innsbruck
Contact Number
+43 – 512 – 58 70 40-0
Opening times
Daily from 3 pm (closed on 24th December. The Jackpot Casino area opens at 11 am).
How to get there
Innsbruck Casino is located in the city center of the Austrian Tyrol capital at the southern end of Maria Theresien Straße. This is close to the Triumphal Arch. Below is the address of the Austrian Casino along with their phone number.
2. Baden Casino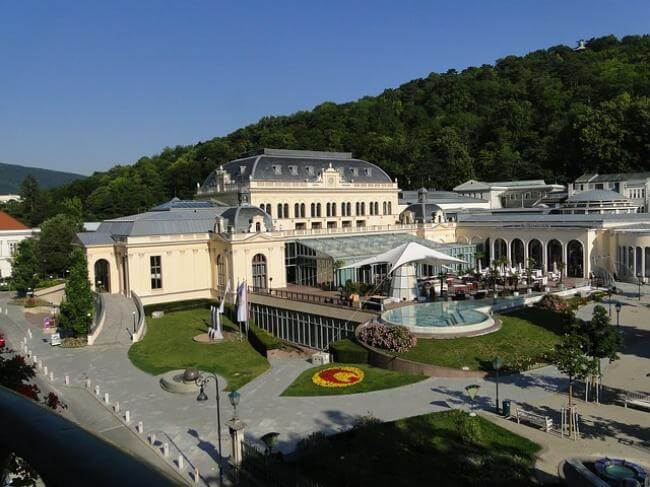 Baden is a small town in Austria that is located to the southwest of Vienna and famous for beautiful parks, wine tasting, and thermal spas. The Baden Casino first opened its doors on April 12th, 1934, and was, at the time, the first casino to operate all year round. As one of the five casinos in Austria, it was closed during the Second World War and moved to the Kongresshaus in 1968. In 1995, the casino saw a major refurbishment which transformed it into the biggest in Europe.
Casino Baden – A Place to Mingle with Celebrities
Since its move to Kongresshaus, it has seen more than 12 million guests enter the front doors, all with dreams of winning a life-changing sum of money. Amongst them have been some famous names, including the likes of Naomi Campbell and some high-ranking politicians.
An Impressive Sum Pocketed by Casino Patrons
The figures involved in the Baden Casino are impressive to say the least, with more than EUR270m having been taken home by guests over the years. The casino estimates that its roulette ball has been rolled a staggering 23 million times and dealers have dealt over 12 million poker hands.
The Array of Casino Games at Baden Casino
The first game to be introduced was Blackjack (in 1972), followed by American Roulette and, of course, poker. Today there are 9 American Roulette tables, 7 Blackjack tables, multiple poker tables and a table for Seven Eleven.
Dining and Entertainment
The casino has a number of restaurants, including the high cuisine of DO & CO. The restaurant "Dome" has exclusive tables and a stunning setting in what was previously the spa. It's also worth checking out the restaurant inside the casino hall itself. Reservations are recommended for all restaurants.
Promotions and Prizes
There are some great promos at Baden Casino, the pick of which is probably the ladies night each Wednesday. The prize on offer is none other than a diamond.
Address
Grand Casino Baden
Kaiser-Franz-Ring 1
2500 Baden
Contact Number
+43 – 2252 – 444 – 96
Opening times
Daily from 3 pm to 3 am.
Opening times: daily from 3 pm (closed on 24th December. The Jackpot Casino area opens at 11 am).
How to get there
One of the reasons that we've decided to include Casino Baden in our list of Austrian Casinos is because this particular casino is highly accessible. Whilst it's possible to get there by train or bus, it's probably easiest to reach by car. The great thing is that if you decide to opt for this method of transport, you'll be able to get there and park in one of the 1,900 parking spaces available.