You may not have heard of 5Dimes before, but it's one of the oldest online casinos and sportsbooks around. Founded in 1996, 5Dimes has successfully proved itself a worthy betting site to millions of players over the years. Best known for its sports verticals (this gambling platform has over 1,000 markets daily), different casinos (the platform is composed of five smaller casinos), non-stop bonus offers like the 21% rebate of losses, crypto payments and much more! Will you roll the dice and pick this online casino to play with? Before you decide, read the full 5Dimes Casino Review to discover more incredible perks of joining this site- let's go!
Overview of 5Dimes
5Dimes is an original-generation casino and sports betting platform that has become better known to sports bettors than game enthusiasts; this is for the simple reason that the sports markets and plethora of bet types offered at this site beat the competition and offers an outstanding gambling experience. As one of the longest-running gambling platforms you'll find online, this site has a lot going for it, and whether you're looking to bet on sports, play casino games, or hit the Bingo hall, you'll find every type of gambling at this reliable and trustworthy site.
However, the casino's age tells in the rather plain (and quite outdated) platform design. We'll point out from the start, is the most disappointing area of this casino: the platform requires an update. That said, experience has equally influenced this platform positively and allowed it to branch into multiple markets, offering a huge range of gambling options. The diverse platform is divided into mini-casinos (each has its area, lobby and rewards). These include:
The Jackpot Casino: focuses on providing 120 unique casino games consisting of 3D Slots, Table Games, and Keno.
The Gold Casino: provides the "thrill and excitement of playing all your favourite Las-Vegas-style games".
The Grand Casino: includes 200 games such as Blackjack, Roulette, Craps, Video Poker, Craps, and more.
The Monte Carlo Live Lobby: Provides Live Blackjack, Live Poker, Live European Roulette, and Live Baccarat 24/7.
The Las Vegas Live Lobby: Provides Las Vegas-styled Live Blackjack, Live Roulette (Single Zero and all-new Enhanced Payout American Roulette), Live Baccarat, and Live Blackjack Early Payout™. You'll also find progressive promo games in this section of the platform.
Along with each of these casinos, there's the sportsbook, racebook, poker room, and mini-games (specifically mobile) section to the site. To play in different areas of the site or the sportsbook, you'll have to transfer your balance to that area first. The casino accepts players over 18 years (this may be 21 depending on which country you play from) and offers bitcoin and fiat currency transactions. However, after your first free monthly withdrawal, fees are applied (see the payments section below). Take note that this is a smaller site in terms of revenue, with sports bets offered from $0.50-5,000 and casino bets from $0.10-500. In terms of responsible gambling, the operator is proactive: offering support, guidance, and account tools like budget limits, time-outs, and self-exclusion to ensure that players can enjoy safe and fun online gambling!
5Dimes Casino Screenshot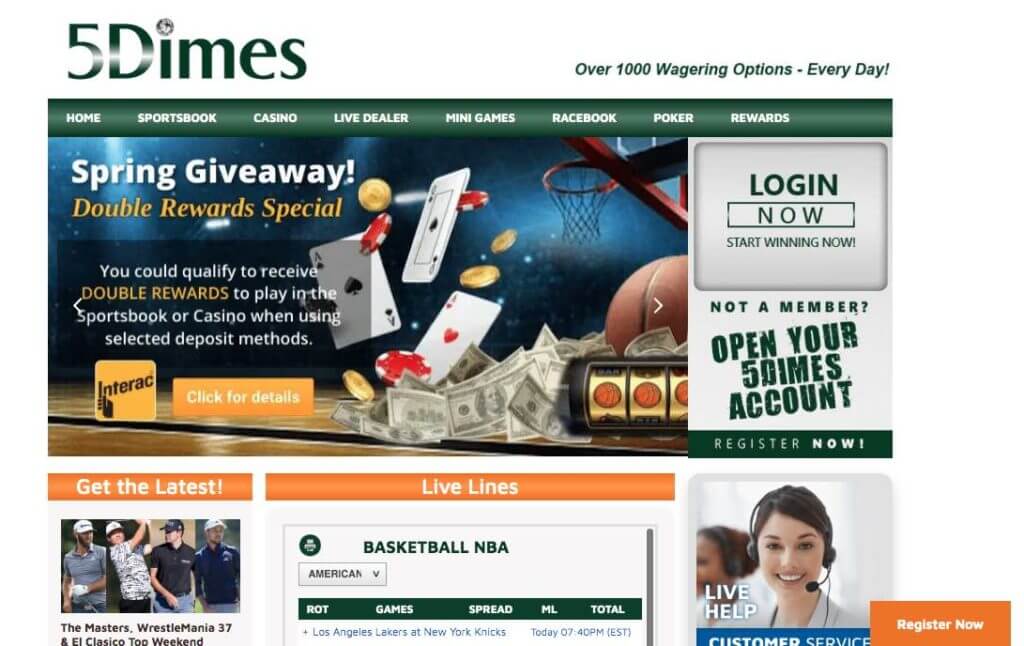 How to Sign Up at 5Dimes
Signing up to play at this platform takes a couple of minutes. Begin by using any of the 5Dimes Casino Review links provided on this page; this will take you directly to the site's registration page. Complete the fields with your name, address, country, email, phone number, and a pin code for your account. At this stage, you will also need to confirm you've read and agree with the casino's rules and the marketing conditions, as well as stating that you are over 18 years old. The casino will create a username and send it to you with a secure link to your email address to verify your account. Click the link to sign in, deposit and start playing games in any area of this mammoth gambling platform.
5Dimes Casino Review: Bonuses and Promotions
5Dimes has a grand collection of bonuses available for every area of the site (sports, poker, live, and casino), so however you want to gamble, there's a bonus to take advantage of. It begins with all players being automatically opted into the Reduced Juice Rewards program (sportsbook bets). Still, you can exchange this for the free play, cashback or rebate program (all aimed at iGaming players). The most eye-catching rewards deal is the 21% rebate on all losses. Rebate or cashback deals are excellent, as they make losing (which will happen at some point to all players) more profitable and fun!
Ongoing Promotions across the Platform
Other regular bonuses include On the House (where the operator takes care of your 8th and 9th deposits), the Betting Contests, deposit boosts, refer a friend bonus, Live Dealer promos and loads more. Plus, within each mini-casino that makes up this site, you'll also find game promos and tournaments; just hit the rewards tab to discover great deals and prize pots hitting $1mil. As far as the bonuses go, with so much on offer, it's easy to see why players would opt for this generous site, as in respect to bonuses: this casino has it all going on!
5Dimes Casino Games & Software
We're going to approach the games offered at this site casino-by-casino as just like with the bonuses; there's a lot to work through at this complex gambling platform.
The Gold Casino
The Gold Casino delivers classic gaming and the "thrill and excitement of playing all your favourite Las-Vegas-style games". This area includes Slots, Table Games (Blackjack and Baccarat), Video Poker, and ScratchCards. The games are provided by a handful of providers, including Blueprint Gaming and Wager2Go.
The Grand Casino
The Grand Casino includes 200 games: 90 Slots, 8 Blackjack, 33 Video Poker, Craps, and the software comes from Real Time Gaming.
The Jackpot Casino
This area focuses on providing 120 modern games for players; there's a heavy focus on 3D slots and Video Slots as well as Blackjack, Roulette, Video Poker and Keno. Betsoft provides the whole casino, and there are 110 beautiful 3D Slots to pick from spanning fun, playful and entertaining themes! Check out: Mystic Hive, Dim Sum Prize, Quest to the West, Chilli Pop, Book of Darkness, and Monster Pop.
The Monte Carlo and Las Vegas Live Lobbies
There are two Live Casinos available at this gambling site:
Monte Carlo Live Lobby: Providing Live Blackjack, Live Poker, Live European Roulette, and Live Baccarat 24/7.
The Las Vegas Live Lobby: Offering Las Vegas-styled Live Blackjack, Live Roulette (Single Zero and all-new Enhanced Payout American Roulette), Live Baccarat, and Live Blackjack Early Payout™. You'll also find progressive promo games in the Las Vegas Live Lobby.
Overall, this is a top-notch collection of unique Live Dealers that any player can enjoy exploring. Important to note is the operator's terms and conditions state that the top iGaming or sportsbook win is $250,000, with sports bets from $0.50-5,000 and casino bets from $0.10-500.
Bet on Sports with the Widest Range of Markets Online
With racebook and sports betting verticals under the same platform, there's plenty of action to enjoy at this site which offers more than 1000 markets and bet types every day. The sportsbook is known as a particular favourite of handicap bettors but provides all kinds of bets, including exotic and live options.
Poker
Nothing is missed at this platform, and if Poker games and tournaments are where you want to gamble, then head to The Grand Poker Room with cash games, daily and weekly tournaments, and freerolls available.
Navigation and Casino Set-Up
All these mini-casinos sound great, right? Well, they actually give the site a pretty outdated feel. It's slightly problematic locating the games you want to play as there's no search function; instead, you need to remember the area you played in and find the game again. What's more, you'll have to transfer your balance each time you want to play in a different area of the site, which is pretty convoluted – it's almost as if this is not one operator but a cooperative of casinos that aren't cooperating all too well behind the scenes. That acknowledged, the games run without a hitch, are modern, and the platform is reliable on any device; it's just let down by design. Rounding up on a high rather than low note, if you click on any game in the lobby, you'll get a playing guide and intro to the game interface and controls: this is excellent as it allows players to learn more about the games offered and select a title.
5Dimes Casino Mobile Review
The 5Dimes mobile service is a casino app available for iOS and Android users. You'll need to download the app before you can play. Do this by heading to the site from your phone or using any of the 5Dimes Casino Review links given on this page. Once at the casino, follow the instructions to download the application and open it. From there, you can sign in or register. The design and set-up mirror the desktop site, but not all of the games on this platform are mobile-optimised. Still, you will find the whole of the Jackpot Casino (that's Betsoft's fantastic 3D Slots), and there is a speciality mini-games section that's filled with mobile options and includes table games.
5Dimes Mobile Login
Once you've downloaded the app, if you are already a casino member, use the same login details you typically enter to play – it's the same account, so there's no need to sign up twice. However, you will need to remember your randomly assigned username to log into new devices (the operator generates your username when you register. It's a randomly selected combination of letters and numbers). If you're yet to register, sign up on a mobile device following the steps given earlier in this 5Dimes Casino Review. And don't forget to opt into a rewards scheme; otherwise, the site automatically enrolls you for the Sportsbook rewards juice bonus (contact customer services to swap to casino cashbacks on losses).
5Dimes Mobile Games – Layout
The app mirrors the desktop site setup, and as mentioned earlier, there are fewer games available (by around half), which is a shortcoming of opting for this provider currently.
Payment Options at 5Dimes Casino
5Dimes Casino accepts both bitcoin and fiat currency transactions, but it does apply fees after your first monthly withdrawal for consecutive requests. Let's take a look.
Deposits:
Visa, Mastercard or American Express: Limits are $50-500 per transaction.
Person to Person: fees of $5-30, min deposit of $100, max of $690, 1 transaction allowed per week. Players must contact customer support to arrange this payment method.
Bitcoin: $25-10,000 limits, fee-free.
For transfers between areas of the platform (remember you need to transfer your credits to play in each gambling site area), the minimum transfer amount is $50.
Withdrawals:
The operator gives one fee-free withdrawal per month, per player, after which these fees apply:
Person to Person: fees from $10-15, limited to $350, 2-3 day wait for your withdrawal reference number.
Cashier Cheque: Fees of $40-80 and a max limit of $3,000, limited to one withdrawal every 7 days, cheques sent 24-48 hours post request.
Bitcoin: 3% charge, no limit if you deposited with Bitcoin.
Bank Wire: This costs $80 and is limited to min: $1000 and max: $9,500.
Customer Support at 5Dimes Casino
Customer support is available via 24/7 phone, email, or live chat service. The team is quick to answer and pretty awesome. What's more, phone support is offered via free phone, with multiple lines for different query types, so there are no costs or availability to worry about. The chances that you'll need support at this site are less as the whole platform is filled with quality content: it has getting started guides, there's a regularly updated blog for sports, events, and gaming news, and if you click on any title in the lobby, you'll find a complete game review, all which enriches the experience at this site.
Our Verdict – 5Dimes Casino Mobile Review: The Gambling Platform with Over 1000 Ways to Bet Every Day
Overall, there are both good and bad things about this casino. Ultimately, the platform is like marmite: you're going to love it or hate it, and in the modern world of instant gaming, it has to be said that there are easier-to-use casinos than 5Dimes. What 5Dimes does bring to the table is a multi-casino experience under one roof, which is pretty darn awesome if impractical. Plus, with a fully stocked sportsbook, Double Live Dealer Lobby (hit-up Monte Carlo or Las Vegas), Poker Room, Bingo, tournaments and multiple ways to enjoy different bonuses: there's so much to discover! Dive in and start earning cashback on losses along with other awesome perks as a 5Dimes player.